First Order Received for Custom Pump in 50 Years
EBARA Bombas América do Sul Ltda. (EBAS), an overseas group company of EBARA CORPORATION (EBARA) received an order for a vertical pump from Companhia Siderurgica Nacional. This makes the first order received for a vertical pump in almost 50 years in Brazil.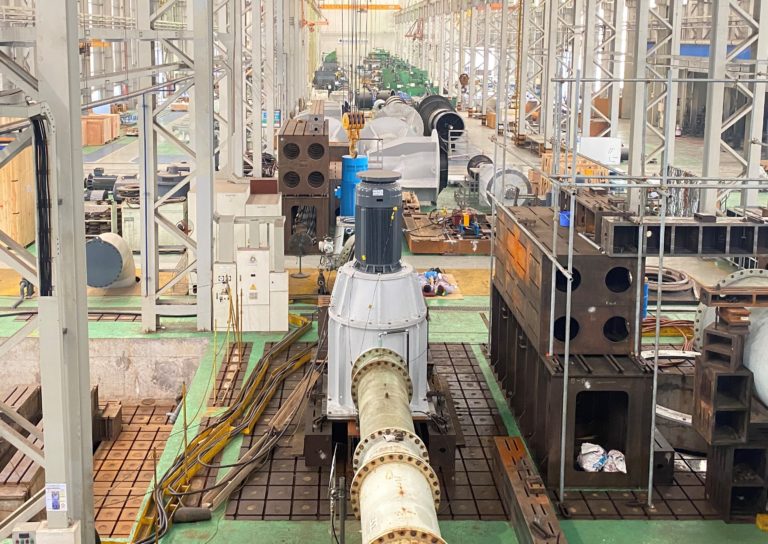 Custom Pumps manufacturing floor in Vietnam. (Image source: EBARA Corporation)
Background
The history of EBARA's custom pump business in South America goes back a long way, and the first delivery was made in the early 1970s. Prior to Ebara Industrias Mecânicas e Comercio Ltda (predecessor of EBAS), which was founded in 1975 and was the company's first offshore manufacturing base to produce deep well pumps, EBARA had offered custom pumps manufactured in Japan, as well as service and support.
Since then, the company has supplied customized pumps to various industries such as water and wastewater, steel, electricity, fertilizer factories not only in Brazil, but throughout South America including Argentina, Chile, Venezuela, Colombia, etc. In the 1980s, as hyperinflation progressed with the downturn of the Brazilian economy and products manufactured in Brazil became the main stream instead of imported pumps, networks with customers for custom pumps ended in South America.
Custom Pumps business overview at EBAS
EBAS has been manufacturing standard pumps since its foundation, with deep well pumps being the main products. In terms of designing, manufacturing and testing custom pump bodies, Futtsu Plant, EBARA's world's largest custom pump factory, in collaboration with plants in China and Vietnam, is leading the way in developing a global production system to meet the demand for custom pumps in South America.
To win back customers for custom pumps, EBAS has expanded its Service & Support department. In particular, hearings in the customers' maintenance, plant operation, and process design departments promoted:
Technical support for customers (design of pump systems etc.)
Long-term maintenance service and overhaul of pumps
Provision of spare parts that can be procured on site with short lead times
Routine maintenance support, diagnostic service for anomalies
On-site pump performance tests at the customer's site
As a result of these services, customer orders increased gradually; in 2017, an order for a customized pump was received from a customer in Uruguay, in 2018 EBARA received an order from Colombia, and finally, in 2020, for the first time in almost 50 years, an order for a vertical pump was received from Brazil. The custom pump for which the order was placed will be manufactured in a plant of Ebara Vietnam Pump Company Limited and is scheduled for delivery in March 2021.