Amarinth Supplies Interchangeable Vertical Pump for Kazakh Project
Amarinth has won an order from Karachaganak Petroleum Operating (KPO) in Kazakhstan, through its agent Industrial Systems Group (ISG), for an ISO 5199 vertical pump to replace an existing Girdlestone pump.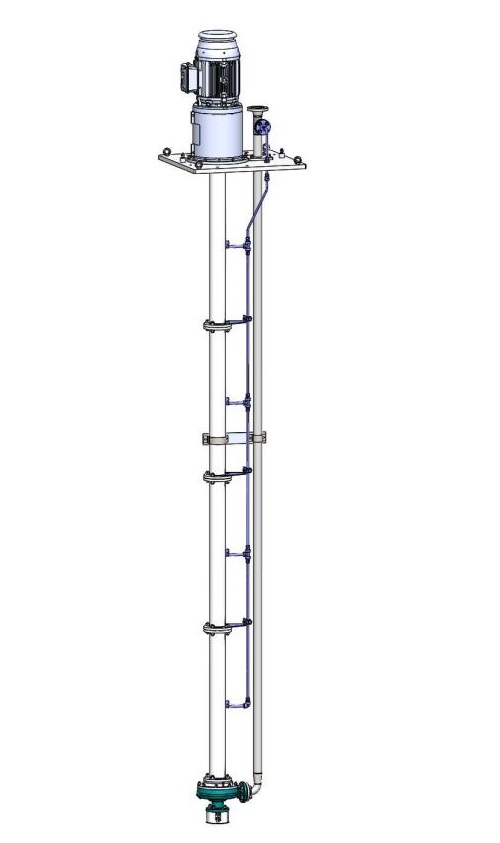 Amarinth ISO 5199 vertical pump with external lubrictaion designed for Karachaganak Petroleum Operating (KPO) in Kazakhstan. (Image source: Amarinth Ltd.)
The Karachaganak oil and gas condensate field is the biggest gas condensate field in Kazakhstan and is owned and operated by Karachaganak Petroleum Operating (KPO). The onshore field is spread over more than 280km2 near Aksai, in northwest Kazakhstan.
When an existing Girdlestone vertical pump installed in the 1980's had come to the end of its life, KPO approached Industrial Systems Group (ISG) for a replacement. ISG is a premier supplier of high-quality equipment for the oil & gas and associated industries in the Caspian region, and the leading company for handling such issues. To minimise the downtime and the costs associated with changing mountings and pipework, a dimensionally and hydraulically interchangeable pump was required.
Amarinth has developed a range of pumps that are directly interchangeable with Girdlestone pumps and Amarinth products are already EAC Certified, a requirement to provide equipment into the EAC Economic Union of Russia, Belarus, Kazakhstan, Armenia and Kyrgyzstan. Amarinth is also confident handling the complex GOST-K Certificate of Conformity documentary evidence required by Kazakhstan law to prove that equipment meets Kazakhstan requirements and standards, and the company has proven expertise in delivering against short lead time bespoke projects in the region, including a previous order for KPO.
ISG, as the long-standing agent for Amarinth in the region, was able to draw on all Amarinth's expertise to supply a new ISO 5199 vertical pump on a 30-week delivery that is fully interchangeable with the old Girdlestone pump. The pump will be supplied with a bespoke external lubrication system and manufactured in stainless steel with 3.1 material certification, meeting all the KPO requirements. KPO will now benefit from a further 25+ years of service life with a pump that is fully supported with availability of spare parts.
Oliver Brigginshaw, Managing Director of Amarinth, commented: "We are delighted to have secured this second order from KPO working in partnership with our agent ISG and we look forward to further orders as we continue to develop our presence in Caspian region."