Affiliate Program
Affiliate program offers at a glance
For manufacturers of centrifugal pumps:
Integration of technical data
Connection of the company's web shop
> Detailed information for pump manufacturers
For pump web shops:
Connection of the shop in the PumpSelector
> Detailed information for web shops
The New Sales Channel: From Search to the Right Pump
Pump users, planners and tradesmen know the problem: if you want to find a suitable pump based on operating data and compare technical details, the websites of the manufacturers usually offer powerful tools, but only for their products. If you want to extend the search to several manufacturers and compare the products, it quickly becomes a time-consuming and laborious undertaking. This is exactly where impeller.net comes in. The open platform directly accesses the manufacturers' data via an interface and offers users all information clearly arranged on a single website.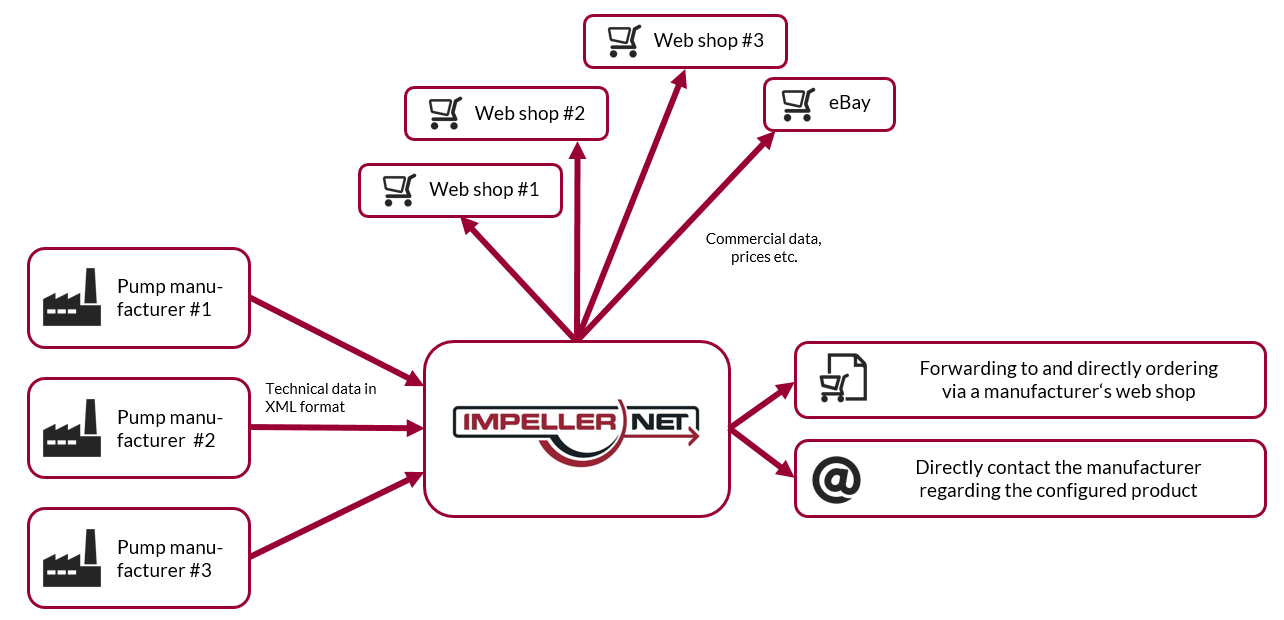 Detailed information for pump manufacturers
As part of the impeller.net partner program, manufacturers of centrifugal pumps have the opportunity to integrate their pump data into the PumpSelector. The platform thus provides an additional sales channel for reaching new customers. Direct web service integration saves the effort of additional data maintenance.
What does it take to include my pump data?
Contact us via the contact form
Discuss the project with our specialists
Prepare the pump data (our data specialists will be happy to assist you)
Have our experts set up the web service interface
Now, your data is available in the PumpSelector
Advantages at a glance:
Direct contact with the target group and increase of brand awareness
Expansion of your customer base and sales increase
You determine which product data is to be used
Use of existing databases via a web service
Integrated request and quote management
No additional effort for data updates
Option to integrate your own web shops
Statistics for search queries, overview of purchases in the shop
Possibility of linking press releases directly with PumpSelector
Detailed information for web shops
Web shops offering pumps of the manufacturers available in PumpSelector have the option to link up via eBay or the AWIN affiliate network.

What does it take to connect my shop?
Integration via eBay
Publish your offer on eBay with the correct brand name and manufacturer number
The link in the PumpSelector will be created automatically
Integration via the AWIN affiliate network
Register at AWIN as advertiser (https://www.awin.com/)
Provide your product feed on AWIN
Set your commission offer on AWIN (minimum 5%)
Contact us on AWIN or via our contact form for joining your program or in case of open questions

Advantages at a glance:
Publication of offers in regions of your choice worldwide
Direct contact with the target group and increase of brand awareness
Expansion of your customer base and sales increase
Qualified search queries with detailed specifications (pump data)
Use of manufacturer data without the need for data maintenance
 Simple integration via various interfaces
Statistics for search queries
> Learn more about other advertising options