Amarinth Wins Order for Vertical Pumps for ADNOC Ruwais Refinery East, UAE
Amarinth has secured an order with its agent NAMA for 14 API 610 VS4 vertical pumps from ISCCO for the ADNOC Ruwais Refinery East, United Arab Emirates. The Ruwais refinery in the United Arab Emirates is owned by ADNOC and has undergone significant expansion since being commissioned in 1981.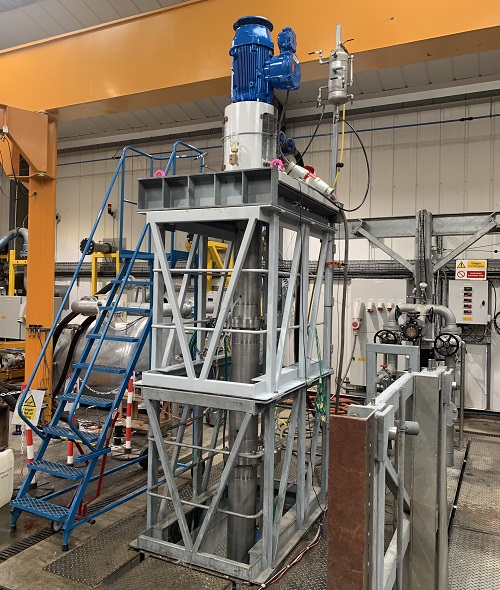 Amarinth API 610 VS4 vertical pump for undergoing final test before delivery to ISCCO for installation at the ADNOC Ruwais Refinery East, UAE (Image source: Amarinth Ltd.)
The most recent project will add a further 600,000 barrels/day capacity to the existing 837,000 barrels/day. Ruwais is expected to be the world's biggest refining and petrochemicals complex upon completion of the proposed expansion in 2025.
The $1M order for Amarinth was secured working in close partnership with its UAE based agent NAMA Development Enterprises. Integrated Specialized General Contracting Company (ISCCO) approached NAMA for its reputation of delivering into major projects and high In-Country Value (ICV), a procurement-led initiative introduced by ADNOC for its suppliers focusing on local supplier selection and development. Amarinth also has a good understanding of ADNOC processes and practices following numerous successful projects completed for ADNOC and so could use this knowledge, combined with its engineering and manufacturing agility, to show ISCCO and ADNOC how it would meet the demanding requirements of this project.
The 14 API 610 11th edition VS4 vertical pumps with Plan 53B seal support systems and top-up trollies will be installed at the Ruwais East Refinery for closed drain duties, condensate and oil transfer. Depending on their duty, the pumps will be manufactured in either stainless steel or carbon steel, and all are ATEX Zone 2 compliant.
The pumps were required on an aggressive deadline of 36-weeks, however Amarinth and NAMA went one-step further and working closely with ISCCO and ADNOC agreed a split schedule so that seven of the pumps will be delivered ahead of schedule. Amarinth will also provide on-site support during installation of the pumps from its Engineering Commissioning team.
Oliver Brigginshaw, Managing Director of Amarinth, commented: "We are delighted to be working with our agent NAMA to secure and deliver this significant order from ISCCO for the ADNOC Ruwais Refinery. We will leverage our strengths in providing bespoke pumps on short lead times and our ability to work with customers in a flexible way to meet the demands of this project which once again underlines our support of the oil and gas industry in the United Arab Emirates."