Rovatti Pompe: New 6″ Borehole Electric Pumps
As enquiries regarding high-performance pumping systems are globally increasing and represent a dare for manufacturers, Rovatti Pompe continues to field products representing a suitable answer for engineers, installers and hydraulic specialists.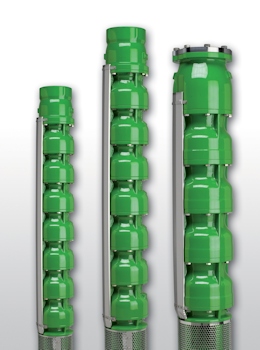 The new borehole pump (Image: Rovatti)
For what concerns electric borehole pumps, Rovatti Pompe highlights the wide range´of products completing "a five year Corporate strategy" focused on providing solutions to ensure longlife and trouble-free operation next to reduced energy consumption.
In fact, the Rovatti cast iron "E" series of mixed-flow borehole electric pumps has welcomed a new and extremely efficient range of 6" extending the established 8" and 10" lines 8E-110, 8E-140 and 10E-300.
The new 6E-27, 6E-64 and 6E-60 borehole electric pumps, with their hydraulic efficiency, are able to reduce running costs and environmental impact significantly.
"It is fundamental in the contemporary industry - explains the Rovatti Technical Manager - to provide pumps for a wide range of liquids ensuring longlife functioning next to reduced energy consumption. That's why we invest many resources in the whole LCC process (Life Cycle Cost) of each pump introduced in the market".