Qdos Dosing Pumps Improve Production Uptime at Aluminium Coating Plant
Aluminium powder coating specialist, France Alu Color, has reduced its costs for chemicals and further improved the reliability and safety of its surface treatment processes thanks to the adoption of Qdos dosing/metering pumps from Watson-Marlow Fluid Technology Group.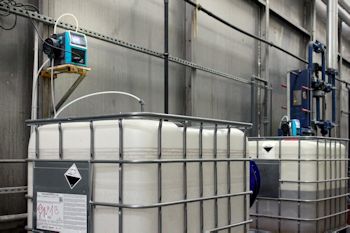 France Alu Color / Marlow Fluid Technology Group
At the company's plant in Marcilloles, some 50 km south of Lyon, France Alu Color coats around 1,850,000 m² (5000 tonnes) of aluminium every year, which equates to around 8500 m² per day. The plant has one of the most modern vertical powder coating lines in France and operates under the Qualicoat product certification scheme, demonstrating both its quality and environmental credentials.
Unclogging production
Clearly there is little margin for downtime at this fast-moving process plant, where the powder coating operation comprises surface preparation, chemical conversion, application and baking. And yet, one year ago, the Head of Chemicals Mr Crouzet, was experiencing problems with acid etching and chemical conversion after the dosing pumps in place at the time became repeatedly clogged.
In short, problems were being experienced relating to siphoning, clogged valves, and a lack of necessary precision to dose the injected chemicals. The only way to keep production moving was to regularly maintain the pumps, with all the time, costs and safety issues (due to potential chemical contact) this incurs. As a consequence, the company contacted Watson-Marlow, which recommended a trial of its Qdos30 model, a move that was to pay dividends immediately.
"We installed Qdos pumps on the vertical powder coating line to dose specific chemicals at three essential points in our surface treatment process," says Mr Crouzet. "This brought about a radical change because the siphoning problems ceased, meaning there were no longer any issues relating to excessive chemical consumption."
Accurate dosing
Another advantage for France Alu Color is that dosing is now precise regardless of whatever flow rate is selected between 0.1 ml/min and 30 l/hr. Furthermore, Qdos pumps do not have any valves, so the clogging problems that previously resulted from impurities in the chemicals, are a thing of the past.
"The Qdos30 can be emptied easily and thanks to the design of the ReNu pumphead, the pumped liquid remains sealed within," says Mr Crouzet. "In addition, there is even an alarm system that sounds if the tube within the pumphead fails. This means that the operator never comes into contact with the chemicals, ensuring complete safety."
Less waste
Other benefits of using Qdos technology cited by France Alu Color include a dramatic reduction in maintenance times and, due to precise dosing, the production of far less waste.
After using the pumps for one year, France Alu Color reports it has only changed a single pumphead. In fact, so pleased is the company with its Qdos pumps that one is now dosing flocculant on the effluent treatment plant. Today, France Alu Color has eight Qdos30 dosing pumps across two facilities.