News from the IFAT 2010 – Part 3
In the third part of the IFAT report impeller.net informs about innovations in the field "Mixer and Aerator".
Since lifting stations have to be maintained in a functionally efficient condition, Caprari has developed an automatic cleaning system. Core of the system is an electric mixer which avoids the sedimentation of solids and the separation of grease and oils from the wastewater through programmed mode. The mixer can be adjusted on both vertical and horizontal planes which makes it suitable for use with different pump sizes and stations with up to 5 pumps. Through the operation which is independent from the pump, installation and maintenance will be optimized and downtime minimized.
The submersible motor mixer GTWS of Eisele are available as complete program for agriculture and industry as well as biogas version with a power range between 2,2 and 15 kW. The fluidic optimized wide-blade propeller guarantees a high agitating and mixing performance even when it comes to viscous media. Due to a high vertical rang of manufacture, e.g. through the own engine production, the company assures its quality standards and is in the position to respond flexibly to customer requests.
OSSI-MIX is the new submersible aerator of Faggiolati which combines a 3-channel centrifugal impeller hydraulic with a special 12-outlet diffuser. The newly developed system can be installed in boxes in depths up to 10 meters and are characterized by a high efficiency. Through a combination with a compressor, the manufacturer sees application possibilities as replacements for plate aerators, whereas the extensive disassembling of the old system can be omitted. For industrial applications, the system can also operate with liquid oxygen.
Submersible motor mixers and drag reducing agents of the series HRS/HRG and HRM/HRL of HOMA are operating where fluids have to be moved – e.g. in wastewater treatment when industrial chemicals have to be mixed or water treatment in fish farming. The robust designed compact mixers are efficient optimized and guarantee a trouble-free operation even under difficult conditions. The powerful submersible motors are water pressure-tight encapsulated. When it comes to overheating, integrated temperature sensors shut down the motor automatically. A two-level-sealing-system prevents very reliable that fluids enter the motor and destroy it. The hydraulically optimized stainless steel propellers are self-cleaning which keeps maintenance costs low.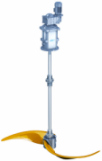 On the occasion of the IFAT ENTSORGA 2010 ITT Water & Wastewater introduced its newest developments in the field of wastewater mixing, the Flygt Top-Entry Agitator. These units are specially designed for demanding denitrification, digester and sludge mixing applications and round out the mixing solutions portfolio of the company. The Flygt Top-Entry is available in three base models. The model 4850 serves many mixing applications and includes banana blade impellers, with an optional bottom support assembly to affix longer shafts to the basin floor. The models 4860 and 4870, which are for digester mixing, include hydrofoil blades, a patented rotating stabilizer that secures the variable-length shaft to the digester bottom, and a patented leveling flange with gas seal that makes it easy to adjust the shaft to true vertical by just one person. These two models also feature a wear-proof water lock to prevent leakage of harmful gases and agitator breakdown.
With the mixer stand AmaRoc KSB wants to enlarge the service life of submersible motor mixers of the series Amaprop. The polymeric composite material developed by KSB dampens vibrations and is very resistant to abrasion. It gives the mixers with their large, up to 2.5 m in diameter, propellers a secure and durable foundation and absorbs all forces generated by the mixer and transfers these to the foundation of the sedimentation tank. That's why the guide rail remains unaffected by the mixer forces. The guide rail only serves to keep the mixer in correct position. As a result of this, pipes can be laid up to 12 meters long.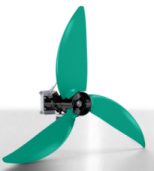 Slowly running submersible mixers with particularly power-saving asynchronous motors which are in line with the new European energy efficiency class IE3 for asynchronous motors have been presented by WILO. The new submersible motors have been specifically designed for mixer whereby bearing could be dimensioned smaller. Considering that submersible mixers run up to 24 hours per day in wastewater treatment plants and are therefore one of the largest energy consumers, significant cost savings can be achieved. According to a profitability calculation of the manufacturer, the annual electricity costs for four clarifier basins with four units each can be reduced by more than 60,000 Euros compared to systems of an older construction date. The payback period of the additional costs is less than five months. It is also possible to retrofit existing mixers with IE3 motors. Wastewater treatment technology from Wilo is one of the most power saving and thus most efficient systems on the market; this is due to the blade shape which has been designed to minimise energy consumption as well as to highly efficient planetary gears. Slowly running submersible mixers are mainly used in water treatment plants for mixing and circulating activated sludge and for generating flow rates in circulation channels, as well as in the industry sector for various fields of application. For applications in corrosive or aggressive media, the motors can be optionally treated with a "Wilo-Ceram" coating which extends runtimes considerably.
Preview/Thumbnail Picture: Entrance West (Copyright: Andi Graf)