Milton Roy expands the HELISEM agitator series
Milton Roy Mixing, an Ingersoll Rand company, has released its redesigned and expanded HELISEM line of top entry mixers which can now be used in a much wider variety of applications.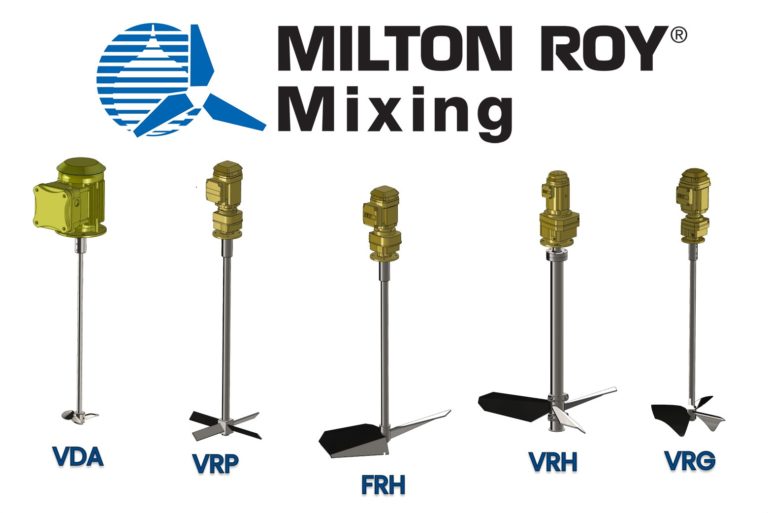 Milton Roy expands the HELISEM agitator series for an even larger range of applications. (Image source: Milton Roy)
The new models have been available since January 18, 2023. They meet customer expectations for flexible flow rates, enabling low, medium and high mixing in a variety of vessels.
"We are confident that this newly released, expanded range of agitators will meet our customers' needs even better and will demonstrate their high efficiency compared to the products currently available on the market," says Gaël Poulleau, Global Technical Leader, Mixing, at Milton Roy.
The new HELISEM line includes five different mixer series - VDA, VRP, VRH, FRH and the new VRG series - and a total of 133 models are available. Suitable for applications with viscosities up to 1000 cP, these models offer high mixing in vessels up to 8m diameter, and medium and low mixing in vessels up to 11m diameter. They support processes such as dilution, dissolution, flocculation, homogenization, solids suspension and other processes in chemical, water treatment and general industry.
A high-quality motor and optimized proprietary propellers deliver industry-leading mixing efficiency, enabling significant energy savings over the mixer's lifetime. These new agitators are easier, safer and less expensive to install and operate. In addition, many of these models do not require any maintenance under normal operating conditions.
The standard HELISEM mixer models have stainless steel construction for media-carrying parts, are equipped with one or two propellers, 50 or 60 Hz power supply and an up or down flow option. Custom options include alternative mounting options including a square mounting plate, a round mounting plate for ASME tank flanges, and an optional high build ABCITE powder coating (now available on 67 models) that provides excellent corrosion protection as well as class-leading resistance to salt spray.