New London Area Regional Sales Manager Appointed by Armstrong Fluid Technology
Armstrong Fluid Technology has expanded its southern sales team with the appointment of Shane Leather in the role of Regional Sales Manager for the London area.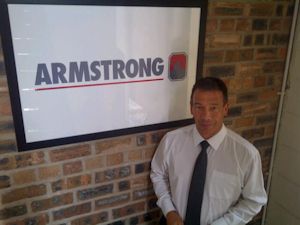 New London Area Regional Sales Manager Shane Leather (Image: Armstrong Fluid Technology)
Based at the company's London sales office in Fitzroy Square, Shane Leather will assume responsibility for all southern area sales managers, reporting to Armstrong Fluid Technology's Sales and Marketing Director, Paul Tonge.
Shane has worked in the HVAC industry for 17 years. He began his career as a sales engineer in the petrochemicals sector and moved into a similar sales role with an air handling company in 1996. He has worked in a number of senior HVAC sales management roles, and joins Armstrong Fluid Technology from a senior board position at Mansfield Pollard and Company.
In his new role, Shane will lead a team of technical sales professionals assisting customers in the south of England. He will also play a key role in expanding the current team to meet increasing level of demand for Armstrong Fluid Technology products, systems and services in the region.