Allweiler to Introduce New Compact Marine Centrifugal Pumps
Allweiler will exhibit its redesigned vertical centrifugal pump solutions for ship engine rooms. The innovative foot design reduces space requirements and improves operational safety.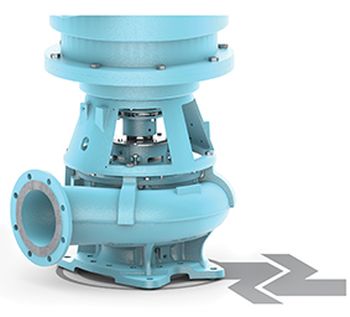 Allweiler will exhibit the new compact MA-C and MA-S marine centrifugal pumps (Image: CIRCOR International, Inc.)
"The new compact MA-S and MA-C series are vertically installed centrifugal pumps with axial inlets and radial outlets. The S version was designed for simple and rapid assembly and disassembly of the insert unit with impeller. The C version offers the same reliability with a significantly shorter installation height, so it s perfect for customers with severe space restrictions," says Christian Martin, Senior Director Product Management.
Both versions use a new and patented foot design and have a footprint that is up to 23% smaller than the predecessor model. In this shorter, lighter version, the suction flange was redesigned with integrated fixing holes for pedestal mounting on the ship s foundation.
This arrangement extends the pump s service life and reduces wear to the bearing and shaft seal by directing forces from the pipeline directly into the foundation. It also helps avoid damages at the impeller and casing.
Allweiler will also use the SMM show to introduce the redesigned "sister series" MI-C and MI-S with an inline volute casing.
The new products give shipbuilders an even greater range of pumps for moving freshwater, seawater, condensates, and oils. These pumps are used primarily as cooling water pumps or as fire-fighting, bilge and ballast pumps.
Allweiler can supply all of the pumps needed in the engine room as a complete package from one source.