TURBOdesign 2013 Pump Initiative Launched
TURBOdesign Suites Evolutionary Inverse Design approach offers the most efficient and accurate approach to full 3D Pump Design and Optimization.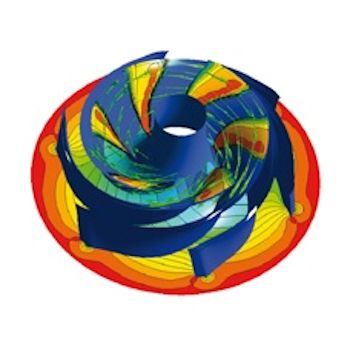 The first free webinar of the Turbodesign 2013 Pump Initiative is entitled, "Evolutions in Pump Design Using TURBOdesign Suite." (Photo: Advanced Design Technology)
Advanced Design Technology (ADT), a global company in the development of advanced turbomachinery design methods and the Turbodesign Suite recently announced the launch of its worldwide Turbodesign 2013 Pump Initiative in which users will learn to develop breakthrough designs in significantly less time while also reducing computational fluid design analysis requirements. The initiative will last through November and entails a series of five free pump design webinars, online hands-on test drives, and introductory product pricing. Turbomachinery designers and original equipment manufacturers will benefit from the next evolution of three-dimensional (3D) pump design as a result of participating in the Turbodesign Pump Initiative 2013 and by using the 3D inverse design methodology in Turbodesign Suite.
"Our 3D inverse design optimization methodology enables truly innovative solutions while reducing development time and costs," said Mehrdad Zangeneh, PhD., professor of thermofluids at University College London and founder and managing director of ADT. "I will personally present the free Turbodesign Pump Initiative 2013 webinar series in which I will take participants through several stages of pump design, from introducing 3D inverse design to advanced inverse volute design."
Turbodesign Suite is the next evolution in turbomachinery design tools.
The design tools available to turbomachinery design engineers have evolved over the past few decades, starting from simple hand drawings and calculations on to calculators, two-dimensional (2D) computer-aided design , 3D CAD, computer-aided engineering & CFD, and finally to 3D inverse design. TURBOdesign Suite is the only commercially available 3D inverse design software on the market today.
Free ADT Turbodesign 2013 Pump Initiative Webinar Series
These are the dates of the free webinar series:
1. August 28: Evolutions in Pump Design Using TURBOdesign Suite
2.September 11: Reducing Pump Stage Hydronamic Losses Through 3D Inverse Design
3.September 25: Controlling Cavitation in Pumps
4.October 9: Advanced Inverse Volute Design
5.October 23: Compact Pump Design and Reduction of Manufacturing Costs