The New Lined Richter MNK for Flow Rates up to 600 m3/h
The new, large Richter pump MNK is qualified for a variety of processes, e.g. for chlor-alkali electrolysis, in the production and processing of sulphuric acid or in so-called world-scale plants as well in the production of MDI and TDI, in recycling plants and in plastic and special fibre production.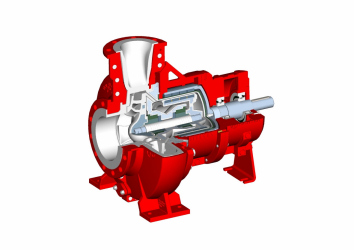 Richter Pump MNK
The design of the pump was optimised and is now even more maintenance-friendly.
Richter Chemie-Technik GmbH, Kempen – a manufacturer of pumps and valves for chemical and pharmaceutical processes – already launched its plastic-lined pump series MNK
20 years ago: It excels through its extremely robust and error-tolerant design. The MNK is used for media where stainless steel, special cast iron and conventional plastics are not sufficiently resistant to corrosion. It is an alternative to pumps made of expensive, exotic metals (Hastelloy, Monel, nickel, tantalum etc.) with its long delivery times.
Even with its previous performance range of up to Q=300 m³/h (1,360 USgpm) and magnetic drives of up to 90 kW (2,900 rpm), the MNK is the most powerful magnetic drive pump lined with PFA/PTFE available on the market.
The pump size 200-150-315 can be used for flow rates of up to 600 m³/h (2,650 USgpm at a delivery head of 60 m/195 ft LC at 2,000 rpm). Until now only mechanical seal pumps in lined or metal design were available to the plant operators in the highly corrosive range of 300 – 600 m³/h (1,325 – 2,650 USgpm). Anyone who preferred a sealless pump could only fall back on metal pumps made of Hastelloy, titanium, tantalum etc.
This pump is a single-stage, sealless, chemical centrifugal pump of heavy-duty horizontal design to EN 22858/ISO 2858/ISO 5199.
The new, large MNK is even more maintenance-friendly: It has a double back pull-out design with a separate rolling bearing pedestal as well as integrated assembly and dismantling aids in order to ease the maintenance.
The pump is rated for operating pressures of up to PN 25 (360 psi). It can be run at speeds of between 750 and 2,000 rpm, depending on the flow rate required. The operating temperatures lie between ‑60°C and +150 °C (-75°F/+300 °F). The closed impeller made of PFA with flow-optimised vane channels contributes to the high efficiency and low NPSHR value. The thick-walled PTFE housing lining – optionally PE-UHMW – has a thickness of up to 20 mm (0,8"). The full-surface shell made of ductile cast iron EN-JS 1049 absorbs the system pressure and eliminates the need for the installation of expansion compensators. A housing drain is provided as a standard feature, a heating jacket is optional.
The very robust plain bearings are made of pure silicon carbide. SAFEGLIDE® PLUS prevents damage in the event of brief dry-running. The high-performance permanent magnets are rated for torques of up to 800 Nm and transmit 120 kW at 1,450 rpm and 165 kW at 2,000 rpm.
The pumps have a double can system
on the wetted side: modified TFM-PTFE, 4 mm thick, considerably more resistant to permeation than standard PTFE
on the pressure-bearing side: carbon-fibre reinforced plastic CFRP, eddy-current-free, pressure-resistant, metal-free, break-proof, high safety reserves.
Plain bearing and housing flushing connections are provided as standard and can therefore be readily retrofitted. This also applies to temperature monitoring and the measurement of the rolling bearing temperature and vibration.