Getting More out of Dewatering Pumps – Small Conversion does the Trick
Anyone who operates a dewatering pump from Tsurumi can, in many cases, upgrade it to a higher performance level - by simply exchanging some parts.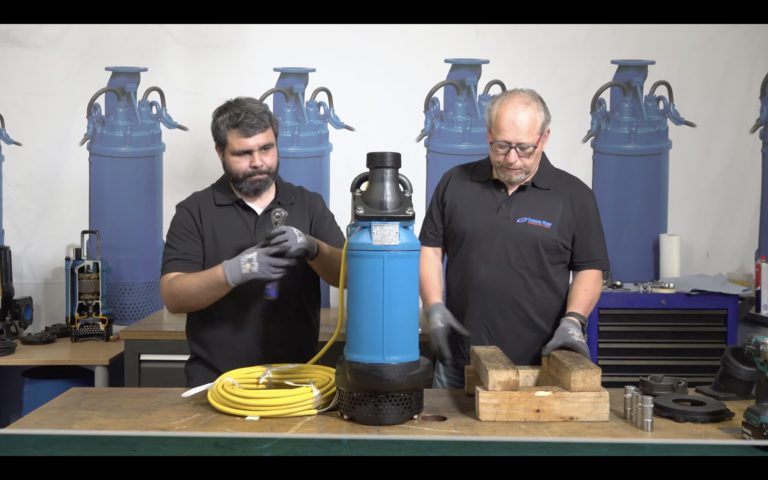 Explanatory video: Sandor Rostas and Stefan Himmelsbach from pump manufacturer Tsurumi show what needs to be done. (Image source: Tsurumi (Europe) GmbH)
The new projects are coming in and the performance of the existing pump is too low? No big deal for operators of Tsurumi KTZ dewatering pumps. These can be reach higher outputs quite easily - at least to the next larger model, often even further. Tsurumi itself has created the preconditions for this, because the pumps are modular in design and use common parts across the series.
A KTZ33.7, for example, turns into a KTZ43.7 just with the help of a wrench. And that's quite something, because the maximum flow rate of the pump increases by a whopping 60 percent.
Tsurumi shows how this works in an explanatory video on YouTube. Basically, it involves replacing the impeller and suction plate on the underside of the pump. For this purpose, a larger discharge nozzle is also mounted. The work should not be a challenge for the technically experienced, as only a few screws need to be loosened with standard tools. The exact steps are well explained in the video instructions. By the way, the films are also a valuable aid when it comes to maintenance work or replacement of spare parts. This is an exemplary service offered by the manufacturer.
Sadly, not all models from the extensive range can be "pimped". However, the increase in performance is possible with many pumps of the series, provided that the same motor is installed. The reason: Tsurumi pumps feature technical power reserves so that users do not have to expect failures if the operating limits are exceeded unintentionally. However, running the existing pump at a higher speed (to skip converting / buying new) is no option: This is where physical effects such as cavitation come into play, which can lead to expensive damages. Ultimately, there is no way around selecting and operating the right pump with the right duty point for the respective application.