New Pump Sizes of the Ecosmart Diaphragm Metering Pump from LEWA Combine Low Purchase Cost with High Performance
In many applications in the chemical industry, the food industry and the oil and gas industry as well, pumps that work reliably and provide high performance are needed.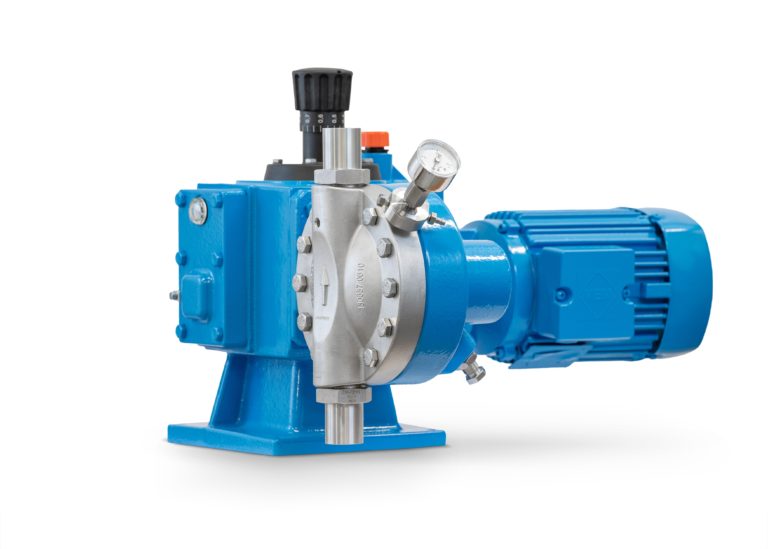 LEWA ecosmart LCD in horizontal design (Image source: LEWA GmbH)
At the same time, they must have convincingly low acquisition costs. With the ecosmart diaphragm metering pump, LEWA GmbH from Germany has provided a good value and safe model that can handle flow rates of up to 1000 l/h. For use in applications with higher flow rates, the pump expert from Leonberg, Germany, is now expanding its product range with the new, powerful LCD variant. The model is designed for a flow rate of up to 2000 l/h. The maximum permissible operating pressure is 50 bar or 600 lbs. The stringent use of similar components within the ecosmart range keeps production costs and therefore, the final price, low. At the same time, a high level of safety can be guaranteed by focusing on all essential design features such as the pressure relief valve or the proven sandwich diaphragm with diaphragm monitoring. The LCD variant will be available from September 2023.
 For this model, too, LEWA engineers were able to successfully implement the equal parts strategy they have often practiced. Pump users also benefit from this intelligent modular principle, as many wear parts can be used across pump types. This considerably simplifies the spare parts inventory. At the same time, the modular principle also allows individual adjustments to the respective application. For example, stroke frequencies or plunger diameters can be selected individually. The basis for this is the M900 pump head, which is already used in the LCA and LCC variants, as well as in the ecoflow program.
Good integrability for plant construction companies

The pump's flexibility also offers advantages for plant construction: For example, the ecosmart pump can be aligned either vertically or horizontally, making it easier to integrate the unit into systems with a very small footprint. In addition, the pump head of the new LCD variant is aligned at right angles to the plunger axis, resulting in a particularly compact format. In many pumps, the pump head is on the same axis as the plunger, which often results in bulky pump dimensions. The 90° orientation of the new models avoids this. This advantage is achieved by the extremely compact and completely redeveloped, cost-effective diaphragm drive.
In order to ensure the long service life typical of LEWA pumps, only high-quality, robust materials are used in the LCD version. As with the other variants, the LCD complies with the U.S. metering pump API industry standard 675, so it can be used for numerous complex processes in a wide range of industries.