The 2019 Chem Show set to Host Chemical Processing Industry's Networking Event of the Year
The 2019 Chem Show, to be held October 22-24 at the Javits Center in New York City, will host more than 270 exhibiting companies and 5,000+ CPI professionals for three days of 1-1 networking, product interaction, educational seminars and best practices learning.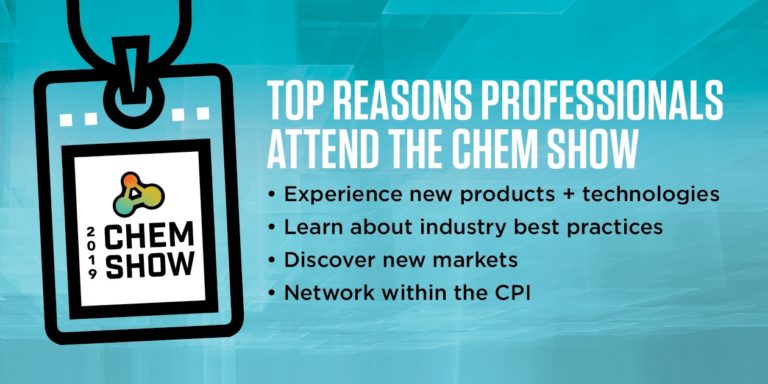 ChemShow 2019
Attendees can register by visiting the Chem Show website. Advanced registration is free.
The Chem Show began in 1915 and has hosted some of the CPI's most influential professionals every odd year since. For more than 100 years, exhibitors, educators, plant managers, engineers and process industry executives have come together to discuss and share ideas pertaining to smarter, cleaner and more efficient solutions to optimize production and research operations.
Below is a compilation of information that demonstrates the benefit of attending and experiencing the CPI together under one roof:
Facts & Figures
5,000+ CPI professionals
270+ exhibiting companies
Chem Show is the largest U.S. event focused on processing technology
73% of attendees report a direct role in purchasing
26 of the top 50 chemical manufacturers in attendance
30+ Free Industry Seminar Sessions
35+ Product Presentations
CPI Segments Represented
Adhesives & Sealants
Chemicals
Cosmetics
Fertilizers & Agrichemicals
Foods & Beverages
Metals
Paints & Allied Products
Petrochemicals & Petroleum Refining
Pharmaceuticals
Plastic Materials & Synthetic Resins
Pulp & Paper
Rubber and Rubber Products
Soaps & Detergents
Ceramics
Textiles and Leather
Utilities