Trelleborg Launches New Flat Gasket Range  
Trelleborg Sealing Solutions launches HMF FlatSeal, a new range of flat gasket materials for effective static sealing in low and high-temperature applications. The range includes specialist materials for use with harsh chemicals and mediums in aerospace, automotive, oil and gas, food and beverage, chemical processing, and pharmaceutical industries.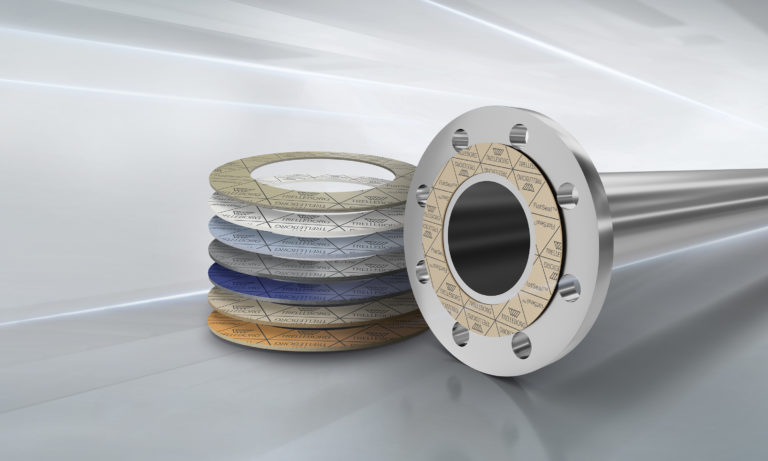 Trelleborg Sealing Solutions launches HMF FlatSeal. (Image source: Trelleborg Sealing Solutions)
Marco Schildknecht, Chemical & Processing Segment Manager for Europe at Trelleborg Sealing Solutions, says: "Our new range of flat gaskets is best-in-class and designed to fulfill the requirements of a wide range of applications, to complement our existing market-leading sealing solutions. The HMF FlatSeal range includes 20 materials, from a standard material for low to moderate pressure and temperature applications to engineered solutions for high-pressure, high-temperature environments, and even specialist materials for food contact applications with FDA and other conformities.
"Through collaboration with our customers, we fine-tune the material selection and the gasket geometry to optimize the overall sealing system. Complex flat gasket geometries are easily created, with the option to include metal inlays or inserts in graphite gaskets. This provides enhanced strength and increased pressure to temperature ratio for harsh environments."
HMF FlatSeal flat gaskets are available in four product groups; an innovative mix of high-quality aramid fibers and Nitrile Butadiene Rubber (NBR), expanded graphite, polytetrafluoroethylene (PTFE), or phlogopite mica materials, to provide a wide range of specialist capabilities, outstanding mechanical stability, and compliance with fugitive emissions requirements.
The addition of an innovative in-organic treatment is available for graphite-based flat gaskets, which improves the long-term oxidation properties of the gaskets in high-temperature applications to extend the service life. The treatment also provides anti-stick properties to facilitate the removal of the gaskets and minimizes the cleaning effort of the flanges.
Trelleborg's new flat gasket range includes materials that are engineered to comply with food contact material regulations globally, including US Food and Drug Administration (FDA) regulations, European Food Contact Regulations (EC 1935/2004), and Chinese food safety standards (GB).
To enable the easy identification of gaskets, select materials are equipped with Trelleborg's FlatSeal Code Technology. Each production batch can be identified via a unique ID, which enables full traceability from the material batch to the cut gasket. This technology provides clear information even after the gasket has been punched and cut to shape, regardless of the temperature, exposure to media, or the length of time in operation.
The FlatSeal Selector tool, available on Trelleborg's website, offers users the ability to select a material based on individual operating conditions and data. Users can choose from a list of media and materials, see temperate and pressure limitations, and select the ideal gasket solution for their application. The tool includes a design configurator with recommendations to support optimized gasket design.