Taco's New Technology Is All About the Building System
Building owners and commercial system designers and installers now have a bigger ally in Taco. The company has broadly expanded the capabilities of its iWorX control platform to provide dynamic graphical interface for remote monitoring of pump and system performance in real time, complete with fully-automated BAS integration.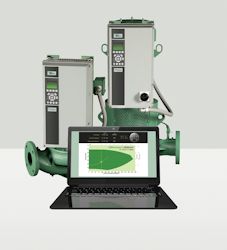 iWorX control platform (Image: Taco)
iWorX SelfSensing ProView control works in concert with SelfSensing ProBalance pumps. Included in the package is the exciting new OneTouch ProBalance feature that permits automatic balancing of a pump (and by extension, the entire hydronic system) with one click of the mouse. ProBalance is an integrated, self-sensing control. With Taco's latest technology, the new pumps now have plug n' play connection with all major building automation systems.
When installing SelfSensing pumps with the iWorX ProView module, the technology – with just a touch of the screen – avails automatically-rendered graphics that show pump performance, all system influences, energy consumption and energy saved in real time. Also, the system provides automatic alarming, trending capability; even predictive maintenance scheduling.
A key advantage is the installer's ability to see all facets of system performance, and if adjustments are needed, they then have the ability to easily balance pump curves to precisely fit system resistance. This greatly reduces system balancing and commissioning time while moving that capability to the installer, instead of an expensive add-on control or commissioning agent.
Previously, commissioning agents would need to invasively insert differential pressure sensors at a furthest point from the control VFD to accomplish flow metering, in addition to requisite programming, hardware and wiring – all at substantial cost.
Taco's new ProBalance SelfSensing pumps – when coupled with iWorX and ProView – accomplish ideal system flow and head pressure automatically, right out of the box. Once installed, the pumps become their own flow-control and measuring device. With ProView, an installer or facility manager now as an easy to use graphical interface to set the flow and meet system GPM demand.
For building owners, this means custom integration with dramatically reduced installed cost, greater system intelligence, and continuous monitoring and control of system performance, and energy management for the life of the building.