Parker Launches Valves with Integral O-LOK® Tube Connections
The Instrumentation Products Division, Europe (IPDE) of Parker Hannifin announces the availability of the Hi-Pro Series ball valves and the HNV Series needle valves with fully integrated O-LOK® O-Ring Face Seal (ORFS) fitting connections. This release augments the company's highly successful valve offerings that utilise A-LOK® two-ferrule connections.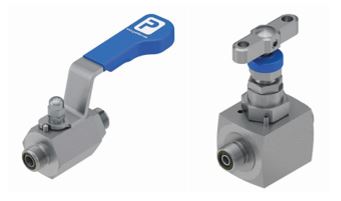 Parker launches valves with integral O-LOK® tube connections for improved operational efficiency and safety in hydrogen applications (image source: Parker)
Like the well-renowned A-LOK® connection, the O-LOK® connection is ideally suited for use in safety-critical hydrogen applications. Where users have specific needs for assembly-by-torque or zero clearance installation, the O-LOK® connections provide these capabilities. Additional benefits include a soft-seal leak-free design, unlimited reusability, and vibration resistance.
The connection features a flat face design, incorporating a Captive O-ring Groove (CORG) with an elastomeric seal, which, when mated to a flanged tube or hose end, ensures an effective leak-free connection.
The zero-clearance feature of the O-LOK® connections significantly simplifies the installation process, allowing rapid drop-in assembly without needing to dismantle adjacent components. This simplified approach reduces rework expenses and maintenance time, thus lowering the total cost of ownership (TCO). Fully integrated into the valves, these connections eliminate the need for thread tape or sealant, thereby reducing leak paths and enhancing reliability.
Parker's O-LOK® connection technology is ideal for mass production in automotive and other hydrogen applications. Tubing assemblies can be delivered to the production line, and automatic torquing removes connection tightness uncertainty. The face seal connections also simplify maintenance in confined spaces. They can be assembled and disassembled multiple times without compromising the integrity of the connection, and valves can be replaced with ease.
"With the launch of a range of O-LOK® ended valves, we are meeting the demands of those customers who require zero-clearance and assembly-by-torque solutions, making a substantial addition to our successful valve offerings that feature A-LOK® two-ferrule connections," said Lloyd Cooper, OEM Business Unit Manager at Parker IPDE. "This addition to our range provides our customers with more options when choosing valves, assuring them that assembly line technicians will experience an increase in productivity and consistency, thanks to the zero-clearance feature and assembly-by-torque methodology."
Available in an array of inlet and outlet sizes and manufactured from 316 stainless steel, these ball and needle valves come with various soft seal O-ring material options.
The hydrogen-ready valves are pressure rated to 10,000 psi (689 bar) and can be used near vibrating machinery or onboard vehicles without risk of loosening or leakage.