Parker's thermal relief valve with A-LOK double ferrule connections
Parker Hannifin has launched an expanded range of stainless steel cryogenic thermal relief valves with the option of integral dual ferrule A-LOK connections.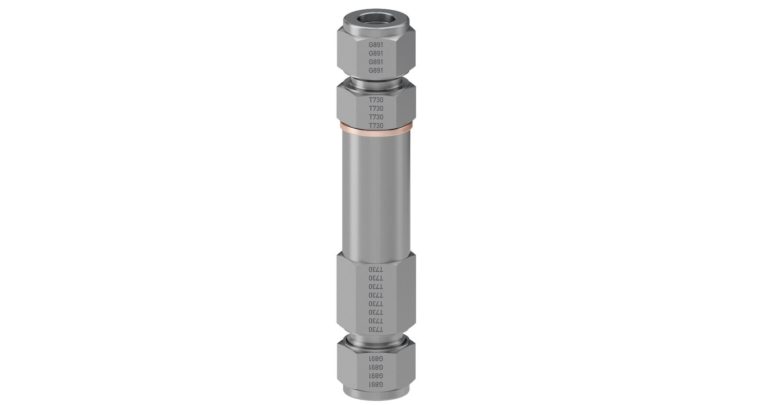 Parker's thermal relief valve with A-LOK double ferrule fittings provides unmatched leak-free performance in industrial gas applications. (Image source: Parker Hannifin)
Parker's A-LOK dual ferrule connection technology provides leak-free performance in a wide range of applications, providing customers with key benefits in safety, reliability, speed and ease of installation.
A-LOK fittings use an advanced dual clamp system for reliability and easy assembly and disassembly without special tools. The design ensures that all new and recovery motion is transmitted axially to the pipeline without radial loading of the pipeline, so mechanical integrity is not compromised.
A-LOK double ferrule fittings also benefit from Parker's groundbreaking Suparcase technology, a proprietary chemical hardening process for treating ASTM 316 stainless steel ferrules that imparts a unique set of physical properties that significantly enhance the fitting's resistance to corrosion.
Olga Krasilnikova, Product Manager, Instrumentation Products Division Europe, stated: "Based on customer demand, Parker has developed a stainless steel thermal relief valve with A-LOK fittings that eliminates the need for tapered threads, PTFE tape and thread sealant, saving time and ultimately customer assembly Costs."
Now available in stainless steel with 12mm A-LOK fittings, the Parker Bestobell Thermal Relief Valve (TRV) is a compact cryogenic relief valve designed to prevent damage to piping and equipment caused by the expansion of liquified gases caused by relieving the excess pressure in a piping system caused by a rise in temperature.
When liquified gases are trapped between two closed valves, a situation known as liquid lock, the reheating and resulting boiling can lead to a dangerous pressure rise, the consequences of which can be catastrophic.
Parker's Bestobell thermal relief valve has been specifically designed for this application and uses materials that are particularly suited to the purpose. A big advantage is that the valve does not get stuck in its seat even if it is not used for a long time. The valve properly resets after the expanding fluid is released, preventing wastage of expensive cryogenic gases.