Of Eucalyptus and Bone Ash
Sustainable ingredients will help curb the carbon footprint of some polymer compounds at Freudenberg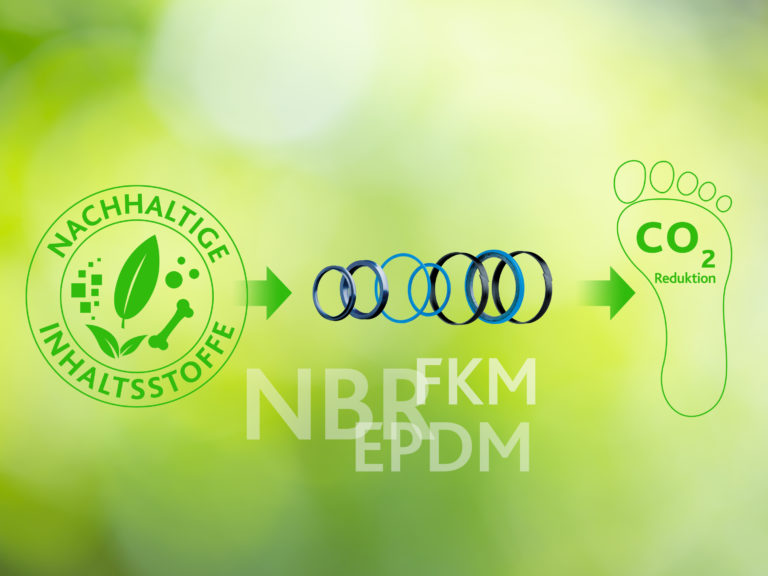 Image Source: Freudenberg Sealing Technologies 2023
Freudenberg Sealing Technologies' commitment to achieving net zero emissions by 2045, or sooner, is driving enormous changes in how the company is managing its activities. Sites have re-energized their focus on system optimizations, a reduction in waste, electrification of machinery, the use of green electricity, and installation of alternate energy systems. Recently, the company's material development experts have joined the effort to eliminate CO2 emissions by intensifying their research into sustainable material ingredients that could replace ingredients derived from fossil fuels.
The sealing experts of the Freudenberg Group are currently analyzing a variety of sustainable substances that could replace the fossil fuel-based ingredients in EPDM, NBR and FKM – all elastomers that are commonly used in industry applications that include batteries and fuel cells.
"Our intention is to decrease the CO2 footprint of our products," said Dr. Boris Traber, Director of Advanced Material Development for Freudenberg Sealing Technologies in Germany. "Some of our base polymers have a high CO2 footprint, and if we use sustainable fillers, we can achieve a smaller footprint. But at the same time, we do not want to compromise our sealing properties. The sustainable material must provide the same sealing functionality."
Customers are becoming more interested in sustainable materials, Traber noted, as they work to lower their own corporate emissions. Add to this the widespread prediction that known global oil reserves only will last another 50 years, and that climate change is already impacting the planet, and it's clear why Freudenberg's material experts are pushing the development of greener alternatives.
Riches from renewables
Sustainable sealing materials contain ingredients derived from renewable resources. These include plant or animal sources and recycled materials. While fossil fuels are also formed from plants and animals, these reserves are ancient and cannot be readily replenished.
Base polymers exhibit many properties that make them excellent for sealing applications – temperature and chemical resistance, high flexibility, excellent elastic behaviors. But these polymers can also lack stiffness and strength. Mineral fillers are typically added to increase these properties, and it is these ingredients that the company's Advanced Materials team is working to replace.
In the company's R&D laboratories in Plymouth, Mich., the material experts have assembled an inventory of sustainable ingredients and their sources. There is calcium phosphate derived from bone ash. Bottles with an antioxidant extracted from Eucalyptus plants, and Rapeseed Oil from Rapeseed flowers, are on display. A container of beef tallow – a sustainable source for processing aids – sits next to material fillers made from lignins that are extracted from forestry processes. And there are others – sugarcane, grain chaff, recycled rubber – can all be processed into useful and sustainable polymer ingredients.  Such renewable resources hold promise, but only if they can replace fossil fuel ingredients, one for one, while maintaining the quality and performance of the original polymer.
"Freudenberg Sealing Technologies specializes in developing and mixing elastomers that are a combination of polymers and reinforcements," said Materials Fellow Dr. Paul Hochgesang. "There are plenty of sustainable ingredients out there, including materials that can be recycled. But we are researching sustainable ingredients that will result in an optimized product performance." Finding that perfect match involves extensive evaluation and testing.
"In the beginning, we will not exclude any sustainable ingredients from consideration," said Traber. "We look at the ingredients our suppliers offer and evaluate their properties. We benchmark them against fossil fuel- derived ingredients. If the performance and quality of a material is not changed, then we can make a recommendation to the company's Divisions about using sustainable ingredients in our materials."
Quality and quantity are key
Despite their potential, extracting ingredients from sustainable sources also has its challenges. The biggest, notes Traber, may be the reliable sourcing of plentiful, high-quality feedstocks that will result in consistent batch material production. A poor growing season, the unavailability of livestock fat and bones, processing costs and the quality of a recycled source material could all hamper the use of some sustainable ingredients.
Sustainable carbon black is an example, said Traber. Despite landfilling more than 58 million tires annually in the U.S. and Europe, processing sustainable carbon black from recycled tires is both energy intensive and reliant upon a consistent, high-quality source of tires. In addition, the tire industry itself is a big competitor for recycled carbon black. Tire producers are also interested in lowering their CO2 footprint and sustainable carbon black would be valuable in labeling their products as eco-friendly and green. Nonetheless, Freudenberg Sealing Technologies is collaborating closely with several suppliers in North America and Europe who are working to develop consistent, high-quality, high-volume sources for sustainable ingredients.
In 2015, Freudenberg Sealing Technologies introduced an EPDM made, in part, from sugarcane byproducts. Customer interest and orders were slim: Not only was the new EPDM more expensive than EPDM using fossil fuels as the source of its ingredients, but customers did not see the value the material offered. The market wasn't ready, Traber recalled.
Today customers are increasingly asking the company what sustainable materials it can offer. As research and development continues, Traber notes that sustainable materials are not a new frontier for the company.
"Freudenberg Sealing Technologies has a long history of material development," he said. "Afterall, the very first Simmerring® was made from leather. They weren't highly effective, so other materials replaced the leather. Our work today is the continuation of a vision we have maintained for a very long time."