High-Performance Material Offers Alternative to PTFE: Better Properties At Lower Costs
Freudenberg Sealing Technologies, global market leader for sophisticated and innovative applications in sealing technology and electromobility, offers a real alternative to traditional PTFE solutions with its innovative high-performance "98 AU 30500" material.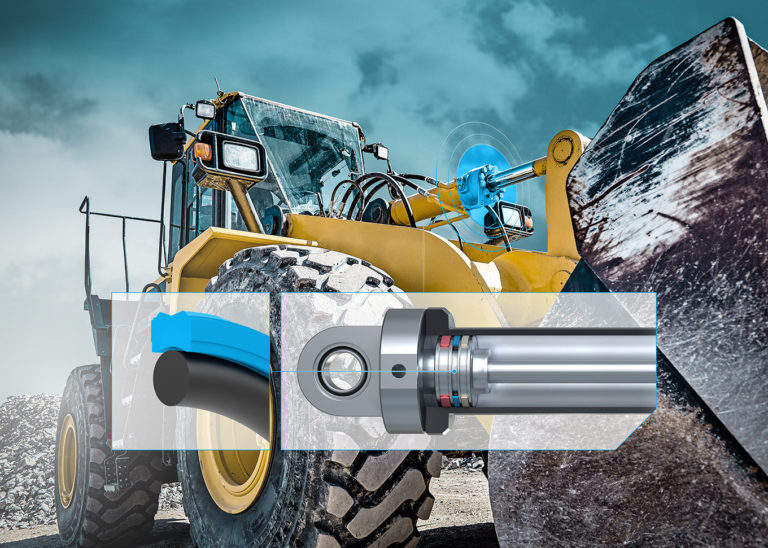 Freudenberg Sealing Technologies 2023
First customers in the construction machinery sector are already impressed by the use of the hydrolysis-resistant high-performance polyurethane. There are myriad areas of application in other industries as well.
With "98 AU 30500", the material development experts at Freudenberg Sealing Technologies have developed a hydrolysis-resistant high-performance polyurethane that offers considerably better properties for mobile hydraulic sealing systems than conventional PTFE variants. "It's true that PTFE materials offer high media resistance and a broad temperature range for hydraulic applications, while being low-friction and reliable," says Dr. Jürgen Hieber. "But our 98 AU 30500 material can actually top that, as it is extremely wear-resistant and also highly media-resistant. Thanks to the optimized alignment of material and geometry, our seals made of 98 AU 30500 have low friction and very low gap extrusion, which translates into a long service life. The excellent friction and sealing performance make it possible for such seals to replace conventional PTFE seals for standard hydraulic operating conditions. It can also be used from -25 degrees to +120 degrees," says the Materials Development Manager at Freudenberg Sealing Technologies. "The material even offers a further important advantage, namely that it makes previously unfeasible low-friction and hydrodynamically optimized sealing geometries possible in the future."
The high-performance material also excels in terms of cost effectiveness. "Thanks to its longer service life and lower need for maintenance, it helps users reduce their operating costs. It also enables greater efficiency in hydraulic systems, which leads to improved performance," says Martin Goerres, Manager of Engineering & Innovation at Freudenberg.
Initial applications in the construction equipment industry
The "OMK-PU 30500" piston seal in 17 dimensions gives Freudenberg Sealing Technologies a new application with the innovative material in its portfolio, which is proving appealing to customers in the construction equipment sector. This two-part piston seal made of hydrolysis-resistant high-performance polyurethane combined with an O-ring contact element is a real alternative to conventional piston seals with PTFE mechanical seals. "Since the piston seal is made in an injection molding process, it is very cost effective. It is interchangeable with seals for standard PTFE ISO installation spaces and requires no recalibration after the installation to bring it to the correct dimension. It has low friction and is an excellent choice for extreme environments. Even as early as during assembly, it's also very resilient against damage. In addition, there is a significant increase in tightness compared to PTFE seals," Goerres says, describing the many advantages.
He sees many more potential applications. Initially, the material was developed primarily for mobile hydraulic applications in the construction equipment sector in regions with high humidity. But by now, customers in such industries as food and packaging are also starting to inquire about it. The market for PTFE alternatives is expected to grow.
PFAS Alternative
Market growth is also expected because the new material represents an alternative to per- and polyfluoroalkyl substances (PFAS), which have come under scrutiny. The "98 AU 30500" material offers users an alternative that complies with the strict legal requirements. "At the same time, the new material is an important step for ourselves in achieving our own sustainability goals," explains Goerres.