Neptune Mixers For Use With Standard 55-Gallon Steel Drums
Neptune Mixer Co. has announced that the design of its Series F Mixers allows them to be inserted into the 2-inch bung of a standard 55-gallon steel drums and then clamped to the drum's lip, resulting in easy, economical and efficient mixing of water-like solutions.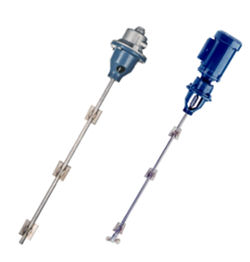 Series F Mixers (Picture: Neptune)
The key to the design of the Series F Mixers is the folding propeller. When closed, the propeller can be inserted into the bung. Once inserted, the propeller, which is constructed of 316 stainless steel, opens to a diameter of 3-3/4 inches, at which time mixing operations can be performed at speeds up to 1,750 rpms.
Series F Mixers are available in four Totally Enclosed Fan-Cooled (TEFC) models—F-1.0, F-2.0, F-3.0 and F-3.2—that feature horsepowers ranging from 1/4 to 1/2, as well as a 1/2-hp explosion-proof model (F3.1) that satisfies Class 1, Group D (EP) requirements. An F-4.0 model features an air motor and is available in 1/4- and 1/2-hp sizes with air requirements from 10 to 20 cfm at 40 to 80 psi.
All Neptune mixers have been designed, engineered and built to provide long life and trouble-free service for a wide variety of blending and mixing operations. They are ideal for waste treatment, water treatment and batch-chemical operations where paints, varnishes, polymers, textile sizes and dyes, pharmaceutical, soaps and countless other materials with viscosities ranging from 1 to more than 25,000 cPs need to be mixed or blended.