Longer Service Life and Process Stability With The Use of Special Coatings
ViscoTec opens a new chapter in dispensing highly abrasive fluids: By using a special coating on the rotors or more specifically by using a ceramic rotor, customers can achieve even greater process stability due to a much longer lifetime of the dispenser components.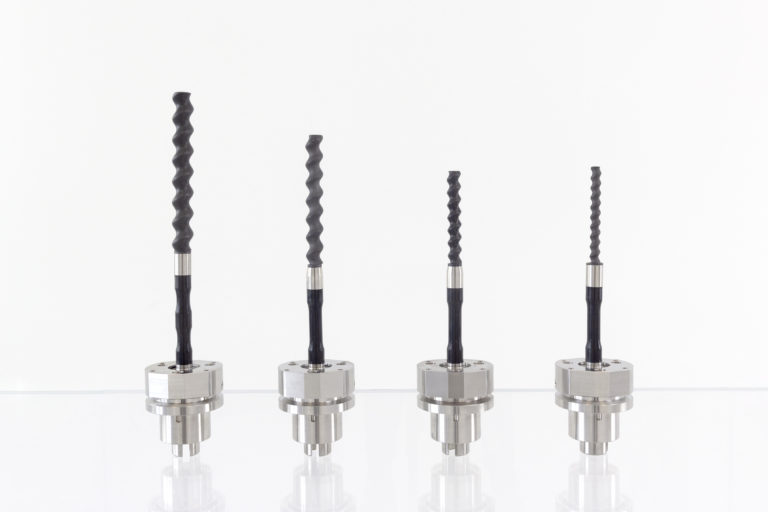 The new ceramic rotor for the RD-Dispenser series from ViscoTec. (Image source: ViscoTec Pumpen- u. Dosiertechnik GmbH)
Increasing requirements in electronics manufacturing
The ever smaller and more compact design of electronic components, with constantly increasing energy and performance density requires precise temperature management to ensure their safe operation during the lifetime of the product. The thermal connection of the electronic modules or battery modules to the heat sink is crucial to dissipate the generated heat via the heat sink and therefore prevent overheating. For this purpose, heat-conducting pastes and adhesives with increasingly higher thermal conductivities are used to eliminate the air gap.
Until now, the usual heat-conducting pastes only had thermal conductivities of 0.8 to 2.0 W/mK. Thanks to higher proportions of thermally conductive solid particles and the specific selection of particle size distributions and different filler types, values of up to 7 to 8 W/mK have now been achieved. These mostly ceramic fillers, such as aluminum oxide or aluminum nitride, have a remarkably high thermal conductivity combined with electrical insulation. However, due to their high Mohs hardness of up to 9 or 10, they are generating challenges for the dispensing technology in with regards to wear and maintenance intervals.
For decades ViscoTec has specialized in such challenging dispensing applications in a wide range of industries. The service life of the system can already be significantly increased by the careful selection of system components in relation to the respective customer requirements. However, wear and tear are inevitable for every technology when dispensing abrasive fluids.
Long-term tests often confirm longer lifetimes of the newly developed components
Nevertheless, to significantly increase the service life of the dispensing components, the proven stainless-steel rotor has been further developed by the use of special coatings based on Diamond Coating.
More specifically, the new version of a rotor, made of a technical full ceramic, revolutionizes the volumetric dispensing of heat conducting pastes: In numerous internal long-term tests, as well as field tests carried out in existing customer systems, a clear optimization could be demonstrated. The special coating can double or triple the service life of the core components. According to current experiences, with the ceramic rotor version service life of the core components can be extended approximately 9 to 10 times.
The various long-term tests with running times ranging from several months to over a year, and dispensed material quantities of several hundred to thousand liters show hardly any signs of wear on the ceramic rotor to date. Stable and process-safe dispensing is still possible, which makes a much longer period of use conceivable. Therefore, the cost-in-use can be significantly reduced.
"Fight fire with fire - this is the motto of the ceramic rotor," says Manuel Paintmayer, Relationship Manager Material Manufacturing at ViscoTec. "Due to the 3 to 4 times stronger surface hardness compared to the previous hard chrome-plated stainless steel version of the rotor, long-term tests with state-of-the-art gap fillers have not yet shown any measurable wear or damage to the surface of the ceramic rotor," continues Paintmayer. The counterpart to the rotor in the dispenser is the stator, which is made of special elastomers. The stators also have a much longer service life due to the unchanged surface of the rotor.
Ceramic rotors for shot sizes from 50 µl showed no signs of malfunction or wear after more than 100 l of dispensing gap filler. This corresponds to more than 2,000,000 individual shots. Identical results were shown for larger dispensers with shot sizes from 1.7 ml. After more than 4,000 l of dispensed material, no signs of wear on the rotor could be measured and precise and stable dispensing was still possible. These results were even achieved by using only one single stator.
The use of ceramic rotors therefore results in numerous advantages for customers:
Maximum process reliability through unchanged dispensing precision of the volumetric dispensing system
Minimizing set-up and downtime
Cost reduction due to minimal spare parts requirement à minimal cost in use
Easy to integrate into existing systems
ViscoTec customers are enthusiastic: "The dispensing system did not have to be recalibrated once during a complete production year in order to compensate for possible wear and tear". A benefit to all parties.