Innovation, Integration and Internationalization are the Three Critical Success Factors for MCE 2016
More than 155,000 industry professionals. 8 per cent rise in international visitor figures compared to 2014 accounting for 25.2 per cent of the total number of overseas trade visitors (up 2.0 %).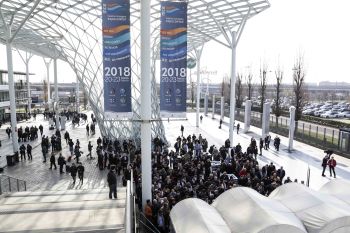 MCE
The 2016 edition of MCE – Mostra Convegno Expocomfort the world's leading exhibition dedicated to residential and industrial installations, HVAC/R, and renewable energies, held from 15 to 18 March at Fiera Milano Exhibition Centre in Rho has closed recording extremely positive results: more than 2,018 exhibitors, of whom 45 per cent from overseas representing 55 countries. A prestigious stage that welcomed over 155,332 industry professionals, of whom 39,140 travelled from 141 different countries, with an increase of 8.0 per cent compared to MCE 2014 accounting for 25.0 per cent of the total number of international trade visitors.
In particular, there has been a rise in the number of attendees coming from Asia-Pacific countries including China and South Korea, and from Africa (especially Algeria and Morocco). Moreover, there was also a sizeable increase in the participants from USA, Chile, and Eastern Europe, with a huge rise in figures from Poland and major increased numbers from Germany, Spain and Switzerland. MCE 2016 attracted over 116,192 trade visitors from Italy, in line with the 2014 edition, while recording a 13 per cent increase in attendees from the South and the Islands aided by preferential tariffs for hotel accommodation and travel facilities to reach the venue. As is customary, a large and diverse audience of experienced professionals flocked to MCE 2016, such as installers and maintenance technicians (34.1%), buyers, decision makers and purchase influencers, large scale retailers, wholesalers, building contractors, construction companies, manufacturing companies, local authorities, hotel industry (32.0 %). The show also registered a 12.0 per cent increase in the number of architects, engineers, surveyors, building administrators, including electrical and Home & Building automation installers for the first time.
The success of the 40th MCE – Mostra Convegno Expocomfort relied on the synergy of three driving forces. Firstly, innovation that is one of the cornerstones of this unique event offering a constant stream of ground-breaking innovations spanning four macro sectors: heating, cooling, water and energy, as a result of continued investment in research and development made by exhibiting companies. The second driver is the high-grade integration between systems and solutions, electric and thermal-hydraulic world, building envelope and installation technology, digital and physical world, in order to project high efficiency and environmental friendly buildings, and reduce energy consumption to creating the "smart cities" of the future. Last but not least, the internationalization of the event. Forty five per cent of foreign exhibitors and the large audience of attendees are a clear sign of the exhibition's growing international dimension that once again acted as an international platform to bring together even more visitors and exhibitors from all over the world. The boost in overseas attendance was thanks to the interest in a sector that is alive with innovation, and excels in the global construction industry.
"We are incredibly proud of the outstanding results that MCE 2016 has achieved – declared Massimiliano Pierini, Managing Director of Reed Exhibitions Italia – that confirmed its figures and its growth, especially in the international arena – opening up to an ever-growing global market that all industry sectors will be able to experience. Once again, I hope our organisational commitment will help businesses to know their customers' requirements and seek to satisfy their needs, to get the latest trends on the market as well as the future direction of the sector. Visitors welcomed the event as a special and unique opportunity to discover the best the market has to offer today in terms of energy efficiency."
Four full days of exhibition presenting a packed programme of conferences, training courses and collateral initiatives. The inaugural conference held on 15 March, featured a presentation on the first "Forecasting and Cyclical Report on the Market of Residential and Industrial Installations in Italy from 2016 to 2019", drawn up by Cresme. The analysis shows that buildings are inescapable part of the built environment market made up of innovative products, systems and components, nanotechnologies and biotechnologies, sensors, thermostats, internet of things, robotics, 3D printers, digitalization and computer modelling. A scenario that sees a rapid increase in international demand for residential and industrial installations: the plant engineering industry in Europe earned revenues of € 369 bn in 2015, absorbing 27 per cent of the output value of the construction industry (+24% in 2009). In Italy, the investment volume in the building industry rose by 34 per cent, and total revenue raised was € 46 bn. These figures confirm that the plant engineering industry is a vibrant and growing sector, or better, it is the driving force behind the construction industry. The opening ceremony was complemented by a rich calendar of 144 events including, conferences, seminars, and workshops organised by exhibiting companies that attracted over 3,000 participants.
Feedback from participants gave a resounding thumbs-up to That's Smart, the workshop and exhibition area, which showcased 50 companies, located in Hall 2 running alongside MCE that concretely expressed the correlation between Smart Buildings, scoring nearly zero or zero net energy use, able to integrate appropriate building envelope efficient solutions, and the excellence of Smart Grid and Smart City plant technologies. Visitors also flocked to the wide range of workshops focused on tackling the current hot topics within Home & building automation, Smart metering, Electric Renewable Energies and Electric mobility.
Once again, Percorso Efficienza & Innovazione and Oltre La Classe A 2016, have proved a big hit. Two initiatives organised thanks to the valuable support of MCE Scientific Committee chaired by a representative of the Polytechnic University of Milan, Department of Architecture, Built Environment and Construction Engineering that this year has featured a smart building in full scale where a shortlist of up to 35 ground-breaking solutions have found their ideal location among the 66 products admitted to Percorso Efficienza & Innovazione. The components of "building automation", control units and panels, sensors and actuators, including domestic appliances and air-conditioning systems home use all installed in the same building that becomes the example of how buildings will be like in the future. Oltre La Classe changed its looks for MCE 2016 that offered a unique opportunity to see in real time how the evolution of technology can manage the building energy demand to ensure maximum performance and save energy of heating, cooling, ventilation, sanitary hot water installation systems, as well as the control of all technologies solutions that provide a new way of living under the banner of integration of three concepts efficiency, sustainability and automation.
Surprising results were also achieved by MCEMASTER, a new initiative held in a special area located in Hall 9 aimed at HVAC/R installers interested in upgrading their technical and professional skills to provide a high level of service to end-users. An incredible success with visitors was Saldamente, a new format set up in collaboration with Castolin and some authoritative partners – dedicated to theoretical and practical training courses on welding and brazing processes – conceived to respond to an evolving industry sector.
Furthermore, the array of initiatives put in place by the main trade associations in partnership with MCE were also very successful with attendees. ANIMA, Federation of Italian Associations of Mechanical, Engineering and Related Industries, proposed a special "Lounge" located in Hall 14/18 providing a full and varied activities programme. ANGAISA, , (Italian Dealer Association for Plumbing and Sanitary Equipment, HVAC, Flooring, Tiles and Bathroom Fixtures and Fittings) hosted TECNOPOLIS-CasANGAISA in Hall 2, that featured the most advanced solutions aimed to logistics and warehousing industry. Last but not least, the conference organised by ASSITAL (National Association of high-efficiency Installation, System Manufacturers, ESco, Facility Management), and the extensive training environment provided by AICARR, (Italian Association for Air-Conditioning, Heating and Refrigeration).
Over the years, the official website of MCE has become a privileged tool for the online community, registering – during the period January to March 2016 compared to the same period in 2014 – 506,997 net surfers (+15%) 209,035 of whom (+22%) from 204 different countries (+8%). The website also had 308,633 unique visitors (+10%) and a total of 2,631,950
page views (+74%). The special section "Companies News", achieved a resounding success, a virtual showcase providing news on products, initiatives and relevant case histories published by our exhibitors: up to 540 news published online both in Italian and English (+34%) by 149 exhibiting companies.
Booming of MCE's social profiles on Facebook, with 6,232 likes (+40%) and 866,696 fans, and Twitter, with 1,184 followers (+48%), and 1,072 tweets (+34%), to give fans the chance to watch what happens at MCE in live videos, photos and discussions. Finally, visitors free download of the MCE mobile "App" for all platforms, with 3,720 app installs (+9%) on Android and 4,668 on Apple, in line with 2014, hit the nail on the head.
While a host of exhibitors have already started signing up for MCE 2018, the organization is shifting up into top gear for MCE ASIA. The show scheduled for 7- 9 September 2016 will be held in conjunction with BEX and the International Green Building Conference at Marina Bay sands in Singapore a strategic hub towards several countries, such as Thailand, Vietnam, Indonesia, Philippines, Malaysia, South Korea which represent a new frontier of comfort for the building industry as well as sustainable or green building construction.