Compact, Angle Control Valves For Hygienic Applications
Pump Engineering offers the extensive range of Badger Meter control valves which now includes type SCV-95 Hygienic Angle Control Valves.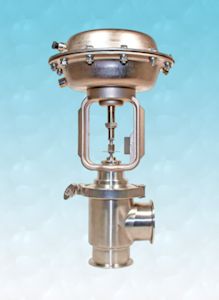 Pump Engineering
These compact valves are available in 2" and 3" sizes and are ideally suited to automated control systems in biotechnology, pharmaceutical and food process applications.
Type SCV-95 valves, which utilise Tri-Clover angle bodies and provide larger line sizes and larger flow coefficients than previously available, are specifically designed to provide modulating control when compared to conventional hygienic control valves.
The standard features include, self-draining design, steam-in-place (SIP) clean-in-place (CIP), quick disassembly / assembly with clamps, choice of either butt-weld or Tri-Clamp ends and internal finish to 32 Ra.
The valves can be supplied with standard, Air-to-open, fail close, Air-to-close, fail open actuators. However, the options of 316 Stainless Steel, ATO or ATC with integral top mounted positioner or side mounted positioner, or a wide choice of electric actuators, are also offered.
The standard characteristics and features of Badger Meter type SCV-95 valves make them ideal for process applications including pressure and temperature control, blending systems, product injection, flow control in fermentation reactors, control of gas blankets in closed vessels and catalyst, defoamer and additive injection.