ITT Engineered Valves Announces New Cam-Tite Ball Valve GV Series
ITT Inc.'s Engineered Valves announced the launch of the Cam-Tite Ball Valve GV Series, an innovative valve solution designed as a direct dimensional and upgraded replacement for severe service applications. The GV Series utilizes advanced sealing technology to isolate and contain highly hazardous liquids and gases to protect the safety of operators and prevent fugitive emissions.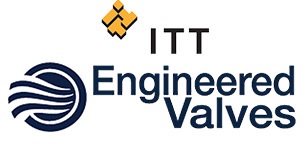 Image source: ITT Inc.
The GV Series offers an easy-to-operate and easy-to-maintain valve solution for processing ammonia, hydrofluoric acid, chlorine, ethylene oxide, phosgene, radiated media, oxygen, steam, and numerous other applications, and is available in all the same pressure classes and valve materials as the brand's current Cam-Tite portfolio. In addition to providing superior valve solutions, as verified through third-party safety and performance testing, the new product line offers global customers the following benefits:
10 times longer stem seal life: While most globe valve designs feature stem seals that are reliable for up to 10,000 cycles, the GV Series maintained zero detectable leakages for up to 100,000 cycles in tests for fugitive emissions.
Three times higher flow design: The GV Series flow design offers three times higher flow capacity than the average globe valve, thereby significantly improving process throughput and reducing common bottlenecks.
Ease of operation: Current globe valve designs utilize a multi-turn hand wheel design that is difficult to operate and requires regular maintenance to ensure proper functioning. The GV offers a simple turn operation, making effective shut-off easier and more convenient.
Standard automation: Unlike older, multi-turn valve models that required custom pneumatic actuators, the GV is easily automated with a standard actuation package. This allows customers to standardize an actuation platform and effortlessly accommodate different valve auxiliary accessories.
Zero seat leakage: Despite the allowable leakage range allotted for API 598 valve leakage tests, the GV Series provided true zero leakage in all of its liquid and gas tests
In-line maintenance: The top entry design of the GV Series makes onsite or in-line repair quick and simple. Standard welded bellows stem seal globe valves often require repairs at an authorized service center.
"When managing harsh applications, a proven, effective valve is critical to avoid costly and dangerous disruptions. That's why our GV Series utilizes advanced technology that not only complies with industry performance standards, but exceeds them," said Nang Chau, ITT Engineered Valves global product manager. "Enhancements made to the GV Series seal and flow designs outperform average globe valves in preventing emissions of harsh chemicals, highlighting our continued commitment to protecting the safety of machine operators and the environment."
The new product line announcement follows an important milestone achieved by Engineered Valves' Cam-Tite Top Entry Ball Valves line: it earned a Safety Integrity Level (SIL) 3 Capable certification to IEC 61508 in compliance with International Electrotechnical Commission standards. It also passed several advanced testing standards for fire safety, harsh conditions, and fugitive emission prevention, including API 607, API 598, ANSI/FCI 70-2, API 622, EPA Method 21, ISO 15848, ASME B31.3 Category M, NACE Standard MR01-75, and Chlorine Institute Pamphlet 6.