Cat Pumps for ATEX Hazardous Atmospheres
In response to increasingly frequent requests for ATEX pumps and pump packages, Cat Pumps UK has developed and tested a full range of high pressure triplex pumps for use in Explosive Atmospheres.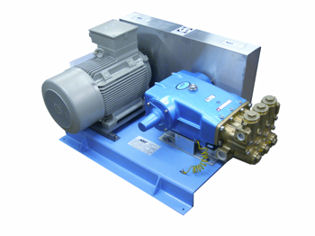 Cat Pumps offer bareshaft pumps for use in both Zone 2 and Zone 1 areas
Any location within the UK in which people are working and where gas, flammable vapours or dust might be found falls under the DESEAR Regulations (The Dangerous Substances and Explosive Atmospheres Regulations 2002). The installer and operator of equipment in such areas must assess the risks and assign a Zone classification to the work area such as Zone 2 or Zone 1 e.g. by referring to BS EN 60079-10-1:2009 and BS EN 60079-10-2:2009. Equipment operators need to bear in mind that the area might be designated Hazardous even though the pump may be handling a non-flammable liquid. Equally, just because the pumped fluid may be flammable, this would not automatically create an Explosive Atmosphere provided that special consideration is given to the pump construction and installation.
Cat Pumps supplies pumps and equipment packages that meet the required ATEX Equipment Group and Category according to the Zone where they will be used. Due to their extremely high standard of design and manufacture, their standard high pressure triplex pumps require very few modifications to make them suitable for use in ATEX areas. Generally, minimising the risk of sparks caused by a build up of static electricity and strengthening a few parts to protect against accidental damage is all that is necessary. Fundamentally, the pumps never get hot enough in normal use to ignite most flammable vapours.
Cat Pumps offer bareshaft pumps for use in both Zone 2 and Zone 1 areas (Fig.1). These are designated II 2G cb IIB T4 for use in most flammable gas environments except Zone 0 and are available for applications between 1 to 300 L/min and for pressures up to 700 bar.
The Company also has the facilities to build its pumps into motorised packages including ATEX motors to the required configuration, together with transmissions, guards and other components. The two categories most commonly offered are:
Pump, motor and transmission for use in Zone 2 gas hazard areas, designated II 3G IIB T3
Pump, motor and transmission for use in Zone 1 gas hazard areas, designated II 2G cb IIB T3
These packages can be constructed as either direct-drive via a suitable flexible coupling or with a speed-reducing transmission depending on the flow rate specified. They can also be upgraded to the more demanding T4 category when required.
"The above Group and Category designations apply to Gas Hazards," reports General Manager Brian Hubbard. "We can, on request, also configure and supply pumps for Dust Hazard areas. We are also happy to discuss applications for flammable liquids or those designated 'dangerous' according to EU directive 67/548/EEC, as we may be able to provide suitable specially-adapted products."
Referring to the spread of ATEX as a recognised International standard for specialised equipment, he continues: "All our ATEX pumps are built to meet the European directives and harmonised standards, which apply equally to all EU countries. Consequently, the products that you buy from Cat Pumps UK can be used in other European countries. Furthermore, other territories outside the EU are also adopting ATEX as their preferred standards for hazardous environments."