$1 Trillion Combust, Flow and Treat Market in 2018
Power, water and industrial plants will spend $1 trillion in 2018 for equipment and services for the combustion, treatment and measurement of gases, liquids and free flowing solids.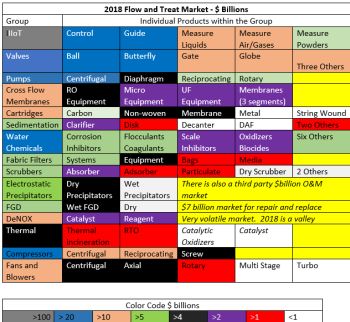 McIlvaine Company
This expenditure will equal 1% of World GDP and has been a major part of human progress ever since primitive man started utilizing fire. McIlvaine Company multi-client reports cover nearly half the market while private consulting addresses the balance. The reports cover hardware such as air and water treatment equipment but also consumables such as treatment chemicals, cartridges and membranes.
The multi-client reports contain millions of forecasts. They include forecasts for each product in each industry through 2022 in 80 separate countries and sub regions. The multi-client valve report provides separate forecasts for each type of control and on off valve resulting in more than 50,000 forecasts. These forecasts are continually updated. This is necessary because regulations can cause sudden major changes in the forecast.
The IIoT market is the largest and fastest growing. This includes controls and automation including a "Guide" category with process management and data analytics software along with third party advice from subject matter experts. The consumables markets such as cartridges and treatment chemicals are less volatile than the equipment markets. The most volatile markets are FGD and DeNOx for the power industry. Each of these markets has fluctuated from $2 billion to $15 billion depending on the regulatory impact. However most countries of the world now have retrofitted this technology. So when India and Asean nations complete their programs the market will become mostly one of repair and replace.
One major process not included in the chart is heat exchange. It is a major investment for the power, chemical, food, refining and a number of other industries. Biological treatment is a substantial market in wastewater and was not included. Reaction processes in the chemical industry were not included in the chart but are part of the $ trillion market.
The rapidly developing Industrial Internet of Things empowered by the Industrial Internet of Wisdom is changing the industry. The connection of knowledge and people and products makes it more important to understand the interaction between blowers and scrubbers, or pumps and filters. Automation and control is expanding faster than the hardware. A number of hardware suppliers are expanding their scope to provide the wisdom about their products with edge computer technology providing a gateway to central systems.
The explosion of knowledge also allows companies to afford advanced forecasting. For example it is now possible to forecast not only ball valve purchases for gas pipelines but to further segment by trunnion vs floating support, top vs side entry, and forecast each of the sizes from 2-36".