Vesconite Wear Rings Offer Pump Operating Advantage
The wear rings are used to restrict the pressure leakage of the fluid between the inlet of the impeller and the pump casing in centrifugal pumps.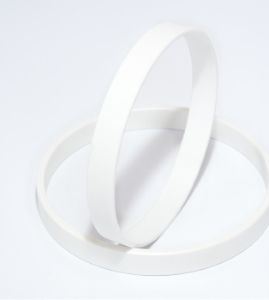 The casing wear rings (Image source: Vesconite Bearings)
The wear rings are made from the thermoplastic Vesconite Hilube, which is a low-friction, wear-resistant polymer that replaces traditional metals such as bronze and stainless steel as well as other thermopolymers.
Benefits at a glance:
They replace metal components that require large running clearances to avoid metal-on-metal contact. Metal-on-metal can result in galling and unwanted pump vibration, as well as severe damage to the pump;
They improve efficiency since tighter running clearances can be applied;
They do not require pump redesigns, since they can fit into the same housings used by metal wear rings and, because they are press fit, do not require mechanical fitment or glue;
They can be easily machined from a variety of tube stock or they can be machined for use using Vesconite Bearings' machining capability;
They are impervious to salt-water corrosion and thus are ideal for sea water and reverse osmosis pumps where galvanic corrosion may destroy stainless steel wear rings;
They resist cavitation, a problem often encountered with metal wear rings; and
Vesconite Hilube is approved, including by NSF61 and WRAS, for drinking water applications.