New Personnel at SEEPEX!
SEEPEX is excited to welcome several new members to its sales team. These new members bring a broad spectrum of experiences with them to help drive the growth of SEEPEX.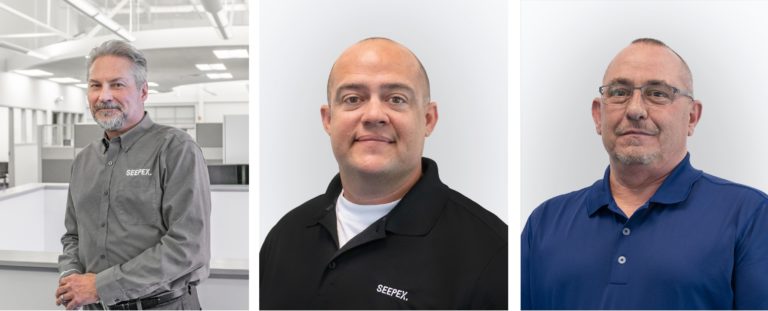 Chris Nanatau, Jason Morrow and Anthony Clark. (Image source: SEEPEX Inc.)
Chris Nantau - Commercial Director, SEEPEX Americas
Chris Nantau has been selected as the Commercial Director for SEEPEX Americas. He has over 25 years of experience in the pump and machinery industries and has led international sales organizations for global OEM manufacturers. In addition, he has owned and operated a custom industrial manufacturing business specializing in automation and machine safety.
Chris is transferring from PST Ventures within the Ingersoll Rand business where he served as the Sr. Business Development Manager. He led the business development efforts of this division to assist in acquiring and commercializing proven technologies. Chris has vast experience with distribution channels and aftermarket support partners to help with expansion and development.
Jason Morrow - Industrial Territory Manager - West
Jason Morrow joined the SEEPEX team as the Industrial Territory Manager for the West region. Jason began his career in rotating equipment just over 10 years ago and has a wealth of experience in the markets of mining, oil and gas, chemical, food process, paper, lumber, and multiple types of production facilities such as semi-conductor, ethanol, and with various OEMs.
He has a bachelor's degree and has attended over 25 pump manufacturer educational classes. Prior to SEEPEX, Jason spent time in outside sales for a SEEPEX distributor and also had his own business for several years.
Anthony Clark - Industrial Territory Manager - Northeast
SEEPEX welcomed Anthony Clark to the team as the Industrial Territory Manager for the Northeast. Anthony has over 30 years of process control experience ranging from pumps, valves, and instrumentation covering a multitude of market sectors including, pulp and paper, oil and gas, energy, metals and minerals, chemical, pharma, and bio tech. He has worked for both channel partners and manufacturers in various positions such as Inside Sales, Business Development Manager, Area Sales Manager, Pump Product Manager, and Vice President.
Anthony is also a proud veteran having served 10 years in the US Army in combat arms. He credits the army in teaching him his leadership skills early on in his career. Anthony is a lifelong learner and continues to hone his professional sales skills by attending courses, seminars, and through person study.