Valveless control piston metering pump from ProMinent
At the Pumps & Valves 2002 ProMinent presents the type DR valveless control piston metering pump that can be considered as an effective problem-solver for applications requiring precise metering of high and extreme viscosity media up to 106 mPas – also containing a proportion of solids.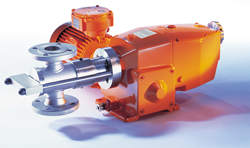 (Type DR valveless control piston pump for high viscous media up to 106 mPas at an operating pressure of up to 630 bar. Source: ProMinent)
In the food industry, for example, the DR pump effortlessly meters glucose syrup, honey, liquorice, tomato paste or ketchup as well as media containing large particles such as chocolate with raisins, jam with whole fruits tec.
The part of the DR pump that comes in contact with the product is made of special hard materials that are largely insensitive to abrasive media such as peanut paste, strawberry jam or animal food.
The metering process in the DR control piston pump is based on superimposed oscillating and rotating piston movement. The intake and delivery sides are opened and closed by the displacement piston itself. Consequently, the pump requires no valves and can be operated in a wide stroke rate range.
In the standard version, the pump head is made of stainless steel. Pistons and cylinders feature a wear-resistant surface coating. If necessary, ProMinent can also offer liquid ends made of different high-performance materials adapted to specific media. Heated versions are also available for media that must not cool down.
Two types of pumps are available : type DR 15 with a metering capacity of up to 388 l/h and an operating pressure of up to 400 bar and type DR 150 with a metering capacity of up to 4138 l/h and an operating pressure of up to 630 bar.