Upgraded Drainage Pumps – P/PC 2001 V and P 401 W
PUMPEX has upgraded its standard model P 2001 V and its slim line PC 2001 V in the drainage pump range for dewatering of high volume of abrasive water from construction sites, mines, ships, docks and flooded areas.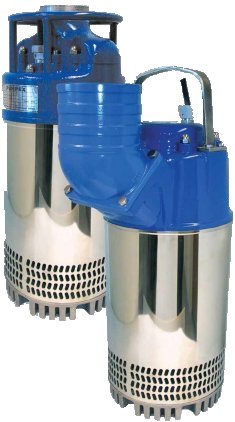 Upgraded PUMPEX drainage pump.
The new pump model P/PC 2001 V with 5,8 kW motor in 50 Hz and 6,6 kW in 60 Hz. has an upgraded mechanical seal.
Features and major changes:
New stainless steel handle and outer casing on P 2001 V (also on P 2001 N and H).
Adapted modular design with P 3001 using same main cover, top cover and discharge spigot on all models for P 2001 (N, H, V).
New design on 4" discharge BSP and NPT and modified main cover on PC 2001
New designed impeller and bottom plate gives new pump model P/PC 2001 V 60 Hz and improved performance on P/PC 2001 V 50 Hz.
New upgraded secondary mechanical seal with circlip on shaft instead of lock washer.
New motor and rotor shaft (with groove for circlip secondary seal).
PUMPEX P 401 W is a portable submersible contractor pump. It has been equipped with new features such as:
Adaptable discharge spigot, which can be adjusted so that it allows the pump to discharge both vertically as well as horizontally.
Stainless steel jacket.
Rubber-coated impeller and a rubber pump casing which reduces wear.
Self-cooling system that allows pumping for long periods of time.
A new, more comfortable and strong handle, with strainer relief for cable