Trinos Vakuum-Systeme GmbH now operating under the name Pfeiffer Vacuum Components & Solutions GmbH
As of January 1, 2017, Trinos Vakuum-Systeme GmbH has a new name: Pfeiffer Vacuum Components & Solutions GmbH. The company based in Goettingen employs some 160 people and has been part of the Pfeiffer Vacuum Group since January 2010.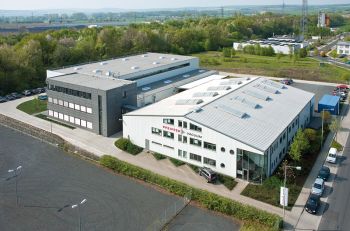 Pfeiffer Vacuum Components & Solutions GmbH, Goettingen (Pfeiffer Vacuum GmbH)
The name Pfeiffer Vacuum has stood for high-quality vacuum technology, a comprehensive range of products and first-class service for more than 125 years. With its close customer collaboration and consistent focus on customer needs, Pfeiffer Vacuum is constantly optimizing and expanding its portfolio.
"The objective of the change in name is to further develop and strengthen our market position. Our product portfolio in Goettingen includes vacuum components, custom vacuum chambers, valves and manipulators. We see ourselves as a premium supplier of vacuum components and a specialist for customer-specific vacuum systems with a wide range of functions," explains Guido Hamacher, Managing Director of Pfeiffer Vacuum Components & Solutions GmbH. "We've planned expansive investments at our Goettingen site for 2017 so that we can continue to remain competitive in the future and secure existing jobs as well as create new ones.
We are looking into the future with optimism and expect more growth in the coming months," added Hamacher.
Vacuum technology makes it possible to produce solar cells, semiconductors, thermal glass and coatings for extremely durable mechanical tools. These are just a few examples of Pfeiffer Vacuum products. Reliable vacuum products and systems are also of major importance for research and development, analytics, environmental technology and the automotive industry.