Faithful Service for 36 Years
An R5 oil-lubricated rotary vane vacuum pump from Busch Vacuum Solutions has been in service since 1987 in the production area of bakery and cake shop Feinbäckerei Ruch. It is still in use twelve hours a day for flour conveying at the bakery in Rosdorf, in the German upland region of Harz.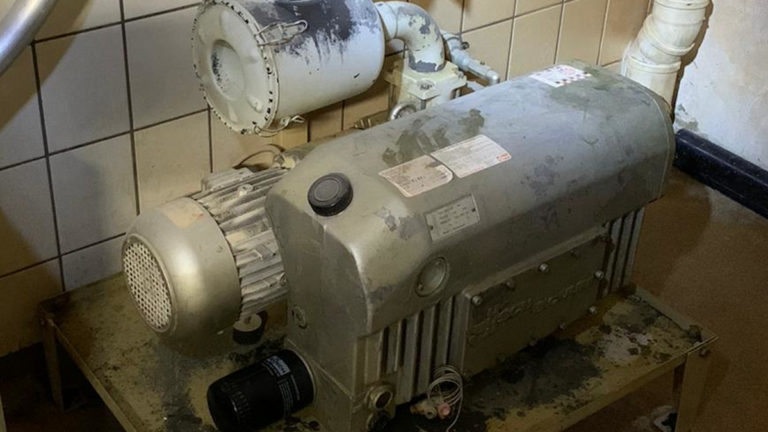 Pneumatische Saugförderung: Mit Hilfe einer alten R5 Vakuumpumpe von Busch wird das Mehl durch Rohrleitungen innerhalb der Ruch-Produktion transportiert. (Bildquelle: Busch Vacuum Solutions)
"This is a very faithful girl, standing in the corner, just running and running," enthuses Thorsten Ruch, Managing Director of Feinbäckerei Ruch. "The pump has been serviced maybe five or six times in all these years, including oil changes, which we did ourselves. The coupling sleeve had to be replaced. But that's not directly related to the pump. Other than that, we haven't had any problems. It just does its job."
The R5 RC 0160 B provides suction for a flour conveying system. With its help, the flour is transported within the Ruch production area through closed conveying pipes. The sealed pipelines prevent contact with the ambient air. This inhibits contamination. Over the 36 years that the R5 vacuum pump has been in use, it has carried a total of around 45,000 tons of flour.
Feinbäckerei Ruch is a fourth-generation family business. The bakery was founded in 1905 by Robert and Amalie Ruch in Göttingen, a city located in the German upland region of Harz. The company moved to nearby Rosdorf in 1987. In 2003, it merged with the Gerhardy bakery, which had been in operation since 1890. The year 2020 saw an expansion for the production facility in Rosdorf. Today, Feinbäckerei Ruch has almost 70 branches in the Göttingen region. Around 600 employees work in the bakery and cake shop, which offers its customers numerous types of bread, baguettes, rolls, pastries, cakes, tarts and cream cakes. The range also includes vegan products and products free from certain allergens. A delivery service and "Mannamia" cafeterias complete the company's concept.