The Water Pump for More than Water
ABS is launching a new world-class water norm pump according to EN 733/DIN 24255, the NL series. Designed for water and other clean liquid applications within industry, water & wastewater and building services, this modular pump brings the cost-effective pumping of ABS to general purpose applications.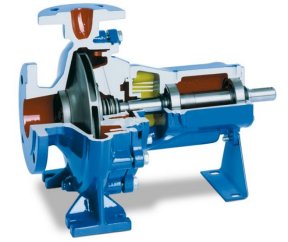 ABS Pumps
Having the benefit of 140 years of hands-on know-how built in to the product, these pumps provide customers improved modularity, higher reliability, and easier maintenance when compared to standard pump installations.
Wide range of applications
The NL series is suitable for numerous applications. It is designed for water and other clean liquid applications within industry, water & wastewater and building services. The pumps can handle clear or turbid liquids (free from solid particles) and are suitable for explosive atmospheres. They can even handle liquids with temperatures of up to 170°C.
Designed and built to support your process
The new NL series offers:
High reliability thanks to oversized bearings and reduced shaft deflection
High efficiencies and low power consumption thanks to the unique hydraulic design
Easy maintenance with the modular system
Large variety of materials and shaft seal options ensures optimal operating conditions for every application
Many options optimise the performance
This versatile pump is available in a range of 50 sizes with only 5 different bearing assemblies. The variety of different materials ranging from cast iron to stainless steel permits pumping of many liquids under different operating conditions and enhances performance in various applications. The NL pumps are available in a variety of shaft seals with different options. These seal arrangements are gland packing or single DIN type mechanical seal with or without quench and external flushing.
Every configuration is fine-tuned to deliver high efficiency with low NPSH requirements. The new NL series also complies with the standards EN 733/DIN 24255 and ISO 9908.
The NL range includes horizontal centrifugal pumps with discharge diameters from DN 32 to DN 300. The NL pumps are also available in a compact close-coupled design, which are space saving and easy to install.