Sealless, Mag-Drive Pumps Solve Refrigerant Recycling Problem
Minimising the potential for chemical and environmental hazards by eliminating pump leaks, reducing downtime and extending service intervals were the important challenges in a fluids recycling application at a leading refrigeration company. In this situation, the use of magnetically coupled vane pumps supplied by pumping specialists Michael Smith Engineers has proved successful in eliminating the contamination threat, reducing downtime and repair bills.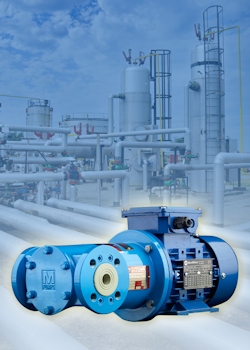 Micheal Smith Engineers
The Industry and the application
Refrigerant recycling involves a distillation process which removes unwanted contaminants such as oil, water, acids and solid particles from the process fluid. The distilled refrigerant is then re-condensed and passed through high efficiency filters to remove any residual moisture and acids ensuring that the refrigerant is suitable for re-use in refrigeration systems. The benefits of refrigerant recycling are reduced costs due to the increased lifespan of products that use refrigerants, a reduction in the need for new refrigerants and lower environmental compliance costs that businesses may face. A number of gases contribute to climate change and six main greenhouse gases are covered by the Kyoto Protocol: carbon dioxide (CO2), methane (CH4), hydrofluorocarbons (HFCs), nitrous oxide (N2O), perfluorocarbons (PFCs) and sulphur hexafluoride (SF6). Hence recycling refrigerants, including HFCs rather than emitting them to atmosphere, assists in meeting the targets laid out in the Kyoto Protocol.
The Problem
As part of the reflux process at the refrigeration company, a range of refrigerants including HFCS's (Hydrofluorocarbons), propane and butane needed to be transferred to the top of a distillation column. Previously, a mechanically sealed cast iron gear pump had been used for this stage of the process. However, there were problems with seal leakages, process liquid contamination and reduced capacity due to excessive slip caused by the low liquid viscosity of 0.2 cp.
The Solution
Following a review of the pumping options and challenges of the process with a collaboration between the site managers at the refrigeration company and Michael Smith Engineers representatives, the decision was taken to install an M Pumps magnetically coupled vane pump, model VM-15 with variable speed drive. M Pumps Vane series are capable of flow rates up to 3000 lit / hr at up to 12 bar differential pressure and at temperatures up to 200 deg C. They can pump liquids with viscosities up to 10,000 cSt and are suitable for system pressures to 25 bar for the standard design, or 150 bar for the high pressure version. The pump was installed in late 2012 and has been running for over a year without problems.
M Pumps VM Series ATEX certified pumps are one of a wide range of mag-drive, sealless pumps available from Michael Smith Engineers which provide an ideal solution to pumping aggressive, corrosive or high purity liquids.