Rotary Vane Compressors Designed for High-Pressure Fluid Discharge
Mouvex announced that its Enterprise Series Rotary Vane Compressors—with a maximum pressure rating of 36 psig (2.5 bar-g)—have been designed for the oil-free high-pressure discharge of fluids that can cause operational problems for typical cargo pumps.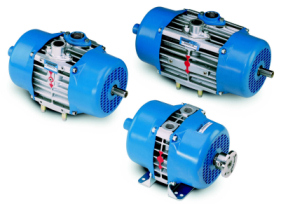 Mouvex Enterprise Series
Mouvex's Enterprise compressors are constructed of corrosion-resistant, hard-coated cast iron that is able to withstand harsh environmental and operating conditions. Their construction also addresses containment concerns, purity standards and the evacuation of residual product. A patented clamping device allows for easy disassembly and reassembly. The unique blade-inspection port on the Enterprise's E106 model offers easy inspection without the need to remove the compressor from service.
All Enterprise Series compressors are available in PTO or hydraulic-motor-drive versions. Available accessories include an inlet air-filter kit, a discharge pressure check/relief valve, PTO drive flange, hydraulic motor drive adaptor and hydraulic drive cooler.