Pump Controller with Fieldbus Communications for Efficient Networking
BOC Edwards' Turbo and Instrument Controller (TIC) is now available with a Profibus communications module. The fieldbus option provides OEMs and end-users with all the cost and control advantages of digital multi-drop communications in one simple-to-set-up rack, or DIN-mountable unit.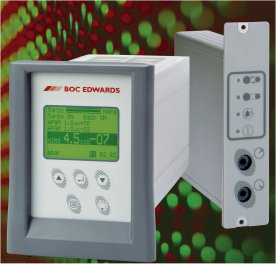 BOC Edwards' Turbo and Instrument Controller (TIC) (photo: BOC Edwards).
TIC is an advanced vacuum system controller which can be used to control a series of vacuum pumps and up to three active gauges. It is already popular with users of multiple vacuum pump systems for the close control of the vacuum process which it affords.
More and more manufacturers, laboratories and research establishments are converting to fieldbus communications to take advantage of reduced cabling and networking equipment costs. Research by BOC Edwards showed Profibus to be the most popular fieldbus choice among their customers in a wide range of coating, process and laboratory applications.
The Profibus module is a compact unit 128 x 117 x 30mm (5 x 4.6 x 1.2 in) which is rack, or DIN rail mounted to suit and can be used in both new and retrofit applications. It is quick to set up with just a simple serial link connection to the TIC controller, and is easy to configure in just a few minutes.
The new module carries full Profibus International accreditation. This stringent independent test process gives users a high level of confidence in the reliability of the new unit and its compatibility and functionality with all Profibus instrumentation and networks.