Parker Certified Mobile Electrification Centers
Parker Hannifin is launching a new network of Certified Mobile Electrification Centers across Europe, the Middle East and Africa to accelerate the transition to low-carbon mobile equipment operations.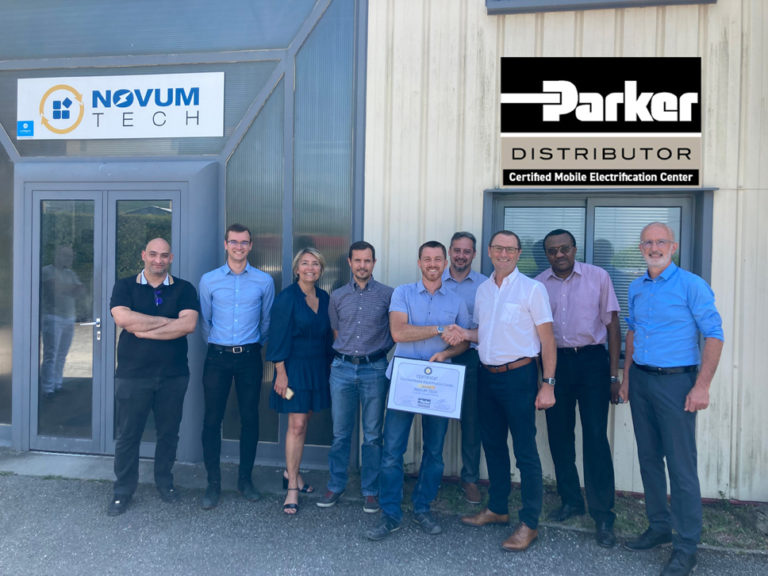 Presentation of the "Certified Mobile Electrification Center" certificate to the four founders of Novum Tech. (Image source: Parker Hannifin)
Novum Tech – based in Goncelin, near Grenoble – is the first Parker distributor to complete the rigorous training and assessment process required for certification. More will follow in France and other regions as Parker expands this new network.
The mission of Parker Certified Mobile Electrification Centers is to assist mobile equipment manufacturers in the electrification of their machines. In the first phase of the electrification process, most machine manufacturers only upgrade the machine's driveline, replacing the diesel engine with an electric motor. But from the second phase, they seek to reduce the energy consumption of mobile machines to extend their autonomy and improve productivity.
Such a transformation is not without difficulties. These include the complexity of combining hydraulic, electrical and control technologies to achieve the longest machine autonomy or equipment operating time on a single battery charge; compliance with functional safety standards; the need for quiet operation in urban areas; and cost constraints to facilitate the adoption of electrified machines. To meet these challenges, mobile equipment manufacturers are not resourceless.
With Parker's SMART electrification solutions, they have a unique offering of hydraulic, electrical, control and cooler technologies and components designed to work as a coherent system in the harshest environments.
To implement these solutions, machine manufacturers can now call on the support of Parker Certified Mobile Electrification Centers. Specialized in mobile machine electrification and carefully selected by Parker for its application and machine experience, these partners undergo regular product training and are thus able to deliver services to the same performance and quality standards as Parker's teams.
"We chose Novum Tech for its proven expertise in electrification systems design and ability to deliver series production of integrated solutions that leverage the full potential of Parker's mobile and motion control technologies," says Adrien Tenga, Market Development Manager, Motion Systems Group EMEA. "As a partner within our evolving network of Certified Mobile Electrification Centers, Novum Tech shares our commitment to help on- and off-road machine manufacturers to reduce environmental impacts while optimizing operational efficiency."
Acting as a Tier 1 supplier to truck and construction machines manufacturers, Novum Tech can offer complete support from studies and design to the serial supply of entire electrification solutions, including Parker electric motors, drives, coolers and controllers, as well as its Li-Ion batteries and its control systems. Mickaël Robert, President and CTO at Novum Tech, commented: "As a Parker partner, we have easy access to quality products, a detailed technical specifications database, unique software tools and expert support. Together, we're able to help manufacturers reduce their development time and accelerate the decarbonization of their mobile fleets."
Parker Certified Mobile Electrification Centers have been established to optimize customer systems by combining industry-leading products backed by excellent service for maximum performance, efficiency, and safety.