Powering Robotic Waterjet Trimming Cells with Jet Edge Pumps
Jet Edge, Inc. and Alliance Automation, LLC announced that Alliance Automation is powering its latest generation of robotic waterjet trimming cells with Jet Edge intensifier pumps.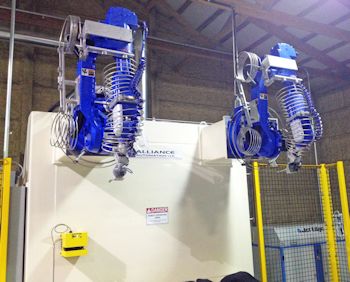 Jet Edge
Featuring dual wall-mounted Motoman HP20D robots and Jet Edge's 60KSI (4100 bar) iP60-50 waterjet intensifier pumps, Alliance Automation's new 6-axis robotic waterjet trimming cell leads the industry in precision and dependability with Motoman's ±0.06 mm repeatability and Jet Edge's reliable tie-rod intensifier design. The cell's sturdy, compact frame design allows stability to both the tool and robots to ensure consistent tight part tolerances.
Most commonly used in the automotive industry, Alliance Automation's robotic waterjet trimming cell precisely cuts shaped parts with many angles from a wide variety of materials, including carpeting, fiberglass, foam and plastic. The system has numerous automotive interior applications, including trimming headliners, dashboards, dash liners, bed liners, wheel liners, door panels, trunk trim, car carpet, and acoustic dampening components.
Alliance Automation's Steven Cranston said the company's robotic waterjet trimming cell features numerous design innovations that distinguish it from other robotic systems and promise to increase productivity, lower operating costs and improve worker safety.
The wall mounted robots allow for the first 2 axis to be mounted forward, over the part, Cranston noted. This feature allows for a larger work envelope and motion to work easier around larger shaped parts. The robots also are able to quickly retract to a home position out of the way for the loading and unloading of parts, drastically reducing cycle times and increasing operator safety.
The system lowers operating costs by eliminating the need for complicated trimming dies, he added. It is set up so that many different parts can be programmed to make a quick change of tools or products. Jobs also can be installed with multiple parts to maximize productivity. In addition, the innovative design of the coil package on the robots allows for a quick change. All coils are a standard design (for each specific robot model), factory wound, pre-coned and pre-threaded.
Cranston said Alliance Automation chose Jet Edge waterjet pumps to power its latest systems based on Jet Edge's reputation for quality, support and free lifetime training.
"Knowing that Jet Edge is a leader in waterjet technology, we knew we could trust the dependability and consistency of the Jet Edge intensifier," Cranston said. "We have been involved in the robotic waterjet market for a number of years and utilizing the Jet Edge Intensifier helps us to provide the product and support we need to satisfy our current and future customers."