Pentair Showcases Positive Impact on People and the Planet in 2022 Corporate Responsibility Report
Pentair released its 2022 Corporate Responsibility Report, reporting on the Company's efforts toward Making Better Essential through its products and solutions, for people and the planet.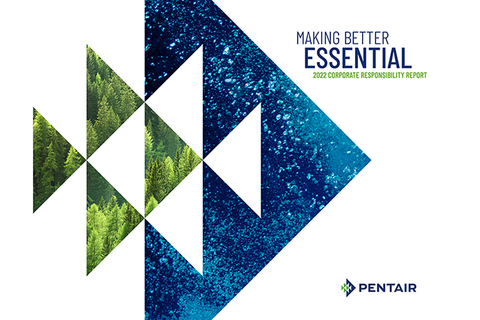 (Image source: Pentair plc.)
"At Pentair, our social responsibility efforts and corporate responsibility program are guided by 'Making Better Essential,'" said John L. Stauch, Pentair President and CEO. "Minimizing the impact on the environment is essential to the products we create, the solutions we offer, the customers we serve, and how we operate. With our mission of helping the world sustainably move, improve and enjoy water, we believe that we can make our planet better and address the world's toughest water challenges."
The Report highlights progress towards Pentair's Social Responsibility Strategic Targets that are focused in the areas that matter to employees, customers and shareholders, including the following highlights from 2022:
Carbon Footprint Reduction Progress Highlights: Pentair's total Scope 1 and 2 greenhouse gas emissions decreased 29% compared to the 2019 baseline.
 Water Reduction Progress Highlights: Pentair's absolute water withdrawal within its operations decreased 0.7% compared to the 2019 baseline, and represents a 9.3% decrease compared to 2021.
 Design for Sustainability Progress Highlights: 100% of Pentair's new products were assessed through a Product Sustainability Scorecard . In addition:

 Pentair further advanced its innovation process by including sustainability as a required factor for review, along with the review of other product attributes, as part of the product commercialization process.
 Pentair developed standard processes for assessing product sustainability impact claims and implemented a life cycle assessment tool.

 Responsible Supply Chain Progress Highlights: Pentair successfully launched a refreshed and enhanced Supplier Code of Conduct.
The Company also launched a new supplier Environmental, Social and Governance (ESG) assessment process in collaboration with a third-party expert and assessed the ESG maturity of approximately 46% of its top 80% of existing suppliers by spend.
 Inclusion & Diversity Progress Highlights: Focused efforts continue to improve diversity representation:

 Pentair's representation of women in its workforce was 32% (2019 baseline of 30%), and women in leadership positions was 32% (2019 baseline of 28%).
 Its U.S. people of color (POC) representation in its workforce was 40% (2019 baseline of 39%) and its U.S. POC representation in leadership positions was 25% (2019 baseline of 23%).
"This past year was an exciting one for Pentair as we continued our advancements toward being a leading sustainability company. I am proud of our accomplishments as we drove critical progress across our strategic targets," said Karla Robertson, Executive Vice President, General Counsel, Secretary, and Chief Social Responsibility Officer. "We look forward to furthering our positive impact while delivering products and solutions that help the world sustainably move, improve and enjoy water, life's most essential resource."
The positive impact of Pentair's products and solutions and workplace initiatives in 2022 is meaningful, as further highlighted within the Report:
 83% of solutions supported energy efficiency by requiring less energy to operate or by aiding broader systems to operate more efficiently
 71% of solutions supported water efficiency, helping reduce, reuse, or recover water, directly or indirectly
 Residential water filtration capacity helped avoid 7,767,579,509 single-use plastic bottles
 Supplied customers with Carbon Dioxide Recovery Solutions with capacity to recover 7.61 million metric tons of carbon dioxide annually
 37% of Pentair's total electricity usage came from renewable resources, representing 18% of total energy use
 For the eleventh consecutive year, recognized as ENERGY STAR Partner of the Year
 Named one of Forbes' 2022 Best Employers for Women
 Received an MSCI ESG Rating of AAA
Pentair engaged with a third party to assure the GHG, water, safety, and diversity, inclusion and equity data in the 2022 Corporate Responsibility Report.