One Controller Handles Multiple Processes With Ease
Walchem introduces WebMaster One®, the most advanced online process controller in the water and wastewater treatment industry. WebMaster One® connects easily with USB plug and play, Ethernet ...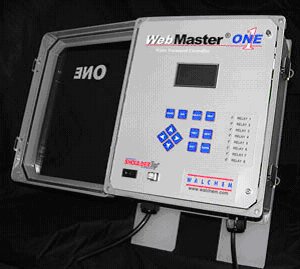 ...for LAN, modem, or cell modem utilizing utilizing the latest global standard digital technologies such as CDMA, GPRS, and GSM, used by most major cellular carriers.
You can now control and monitor multiple cooling towers, boilers, closed loops, condensate lines, wastewater treatment systems or any combination using just one WebMaster One®. You will be able to monitor conductivity, pH and ORP as well as any 4-20 mA and digital inputs such as liquid level, corrosion, inhibitor concentration, temperature and pressure. And, utilizing the Internet and our patented ShoulderTap® Connectivity-on-Demand technology, you can do it securely from anywhere.
Chemical Sales Reps can monitor their accounts, prepare reports and troubleshoot before issues arise, making customer visits more positive and productive. Plant facilities managers will have reporting capabilities to assure plant assets are running efficiently.
Combine that flexibility with industrial grade components and durability and you have one controller that will handle all your process control requirements. That's the unique WebMaster One®advantage!