NOV Mono Ends 20-Year Pump Project to Preserve Historic Artefact
When a number of Mono pumps were switched off recently, it marked the end of a 20-year operation to preserve the remains of an historic Tudor warship, the Mary Rose. The progressing cavity pumps from Mono have been used to help spray the fragile timbers of the Mary Rose with a mixture of water and wax – a crucial stage in the preservation process which has now come to an end.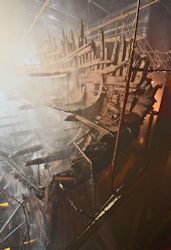 A 20-year operation to preserve the remains of Tudor warship, the Mary Rose involved the use of Mono™ progressing cavity pumps to spray the fragile timbers with a mixture of water and wax. (Image: NOV Mono)
The race to preserve the remains of Henry VIII's flagship began after she was recovered from the bottom of the Solent, where she had lain since sinking some 430 years earlier. Mono's association with the ship began in 1994, when pair of E122 progressing cavity pumps were chosen for duty/standby roles to help spray the hull continuously with a solution of Polyethylene Glycol (PEG) to stabilize its waterlogged timbers. The pumps provided a continuous stream of PEG to 360 spray nozzles located around the ship, and were supported by four smaller Mono pumps, which operated the heating and cooling circuits that maintained the PEG at an optimum spray temperature.
After 10 years of operation when maintenance was required on a gearbox, the Mono pumps were also inspected and found only to need one stator component replacing. The pumps then returned to operating at speeds of 279rpm, circulating 2,000 litres per minute of PEG solution around the spray system. Six additional Mono Industrial E range pumps were later added to increase the capacity of the heating and cooling circuits.
"The ship's timbers had to be kept fully moistened at all times, so the pumps used had to be totally reliable if the timbers were to be properly preserved," comments Mono's Senior Sales Engineer, Mike Burton. "This project really has shown how Mono pumps can provide consistently high levels of performance year after year and simply go on giving excellent service."
Until she sank in 1545, the Mary Rose was one of the largest ships in the English Tudor fleet. She is now the only sixteenth century warship on display anywhere in the world, and forms the centrepiece of a new £27million museum that has been built at Portsmouth Historic Dockyard. The new museum also holds many thousands of the 19,000 Tudor artefacts which were recovered along with the vessel.