New Synchronous Motors Make for Highly Efficient Submersible Borehole Pumps
KSB Aktiengesellschaft, Germany, will be presenting a range of pumps for water production applications. Among them will be submersible borehole pumps with new energy-saving motors up to 150 kW.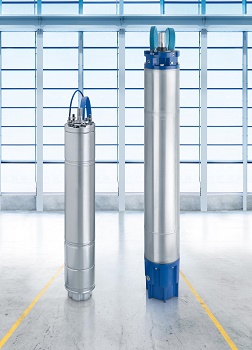 UPA pumps with new energy-saving motors are characterised by a low power input and a long service life (Image: KSB Aktiengesellschaft)
The drives are permanent magnet excited synchronous motors. Their output per size clearly exceeds that of conventional asynchronous motors. If comparing motors of the same size, synchronous machines have a markedly higher output and lower heat development. With efficiencies being much higher, enormous savings and relatively short payback periods compared with asynchronous machines can be realised. The motors are operated on a frequency inverter. The adjusted flow rates reduce the frequency of starts and, with that, the load on the winding. As this optimised operating mode also keeps the frequency of pump starts to a minimum, it decreases wear and extends the pump's service life. A mechanical seal prevents the fluid handled from mixing with the fluid in the motor space, which increases the availability of the motor. The motor's thrust bearing is water-lubricated and has self-adjusting tilting pads. Requiring no maintenance, it easily copes with the stresses and strains of continuous operation thanks to the material combination of stainless steel and hard carbon. While the pump set is started up, the counter thrust bearing absorbs the axial thrust caused by the hydraulic system of the pump and prevents the impellers from coming into contact with the stage casings. This results in a high operating reliability and achieves the long service life customary for submersible borehole pumps. Smooth running is ensured by a dynamically balanced rotor. The pump sets are available in different material variants to match the application. For aggressive fluids, for example, pump sets of 8 inch and larger are available in duplex stainless steel. Both, the pumps and the motors, are certified for use with drinking water. Due to their high output, the new synchronous motors can be combined with much larger pumps of between 6 and 14 inch. Flow rates of up to 850 cubic metres per hour can thus be pumped much more efficiently with the UPA type series. A patented sand separator prevents any abrasive wear in the pump. The enclosed pump bearings are maintenance-free. A lift check valve with anti-blockage valve disc increases the pump set s operating reliability. Its integrated spring prevents waterhammer thanks to minimum valve closing times. This means the operation will also be gentle on the complete well system and its individual components.