New Solution for Connecting Multi-port Valve Blocks
Ingelfingen-based valve specialist GEMÜ is launching two new solutions for connecting single-use multi-port valve blocks.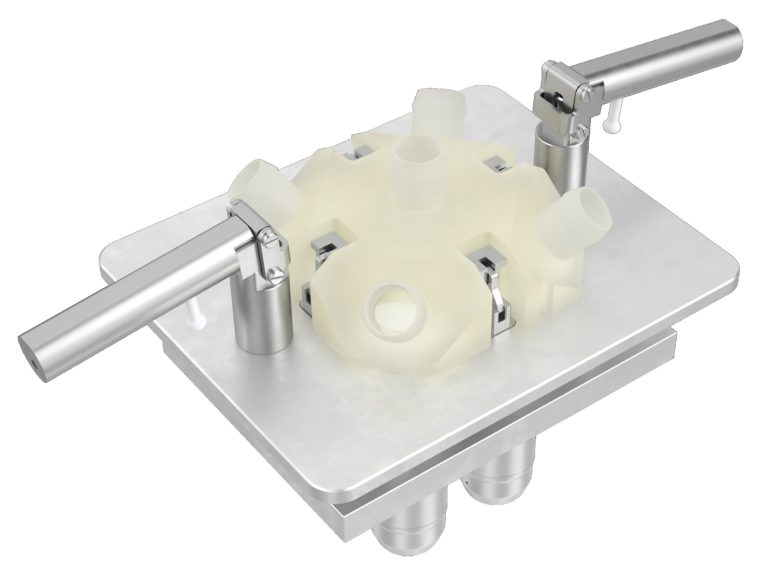 Single-use multi-port valve block with pneumatic locking device (Image source: GEMÜ Gebr. Müller Apparatebau GmbH & Co. KG)
The first solution means that it is now possible to control the pneumatic locking of the valve block via locking cylinders thanks to a valve block sunk into the skid surface. The second solution consists of using a valve block placed onto the skid surface, where the valve body is manually connected to the actuator unit via a detachable hand lever. This second type offers greater flexibility for the spigot layout. The connection between the actuator and the diaphragms welded onto the valve block is created reliably within a few seconds using the familiar clamping principle of the GEMÜ SU40 SUMONDO. The blocks themselves are produced by machining and can therefore be tailored to each specific application.
There are several benefits to using single-use technology: Eliminating the need for conventional cleaning cycles and the associated costs for power, cleaning media, waste disposal and peripherals while increasing protection against cross contamination between different manufacturing drives. It also minimises downtimes in factories, which significantly improves the flexibility and effectiveness of single-use solutions in the medical and pharmaceutical technology sectors in comparison with conventional solutions. In addition, the use of single-use technology reduces negative environmental effects by eliminating energy-intensive cleaning cycles.