New Multistage Centrifugal Pump Program up to 64 bar from OSNA
The series consists of 13 sizes with 1 up to a maximum of 18 stages -- horizontal (series MKH, MKE) or vertical (series MKV) centrifugal pumps with closed impellers.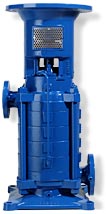 OSNA MKV centrifugal pump
Balance of axial thrust by an independent relief of the impellers. Remaining axial thrusts are absorbed by sufficiently proportioned roller-bearings.
Pumps with pressures exceeding 40 bars (series MKE) are additionally equipped with a balance drum.
For an optimal adjusting to the operating point the diameters of the impeller blades will be corrected when required.
Materials
Cast iron, spheroidal graphite cast iron, bronze, cast steel, stainless steel
Technical Data
Delivery rate: up to 1100 m3/h -
4030 IGPM - 4840 USGPM
Delivery head: up to 640 m - 2100 ft
Speed: up to 3500 min -1
Temperature: up to 140 °C (284 °F)
Casing pressure: up to 64 bars