New Isolation Flow Control Flange
Bell & Gossett® has introduced Check-Trol™, a new isolation flow control flange that combines the features of a flow control valve, isolation valve, and companion flange in a single valve.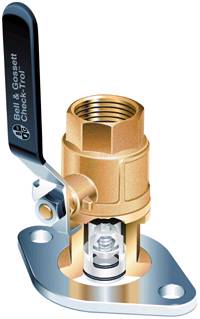 Bell & Gossett's Check-Trol™ (source: Bell & Gossett)
This three-in-one innovation offers multiple benefits, such as delivering minimal pressure drop, an advantage when one considers the losses that can be experienced when a check valve is installed internal to the circulator. Additional benefits of the new product include a full port ball valve that allows the circulator to be removed without draining the system; an internal spring check prevents gravity circulation and flow in the wrong direction; and a free-floating companion flange provides for easy alignment and makes pump installation a snap.
Available in 3/4", 1" and 1-1/4" NPT and Sweat models, the Check-Trol (patent pending) is designed to be used with all major brands of circulators, including the Bell & Gossett NRF, NBF, and SSF wet rotors, Series PL, Series 100, HV, PR and LR circulators.
About Bell & Gossett
Bell & Gossett, a unit of ITT Industries, is a leading manufacturer of centrifugal pumps, hydronic specialties, heat exchangers, condensate handling equipment, and packaged systems for variable and constant speed pumping, heat transfer and pressure boosting.