New Intermediate Shaft Coupling from the ROTEX Family
KTR Systems GmbH has developed a torsionally flexible intermediate shaft coupling the centre piece of which is made of high-strength aluminium allowing for shaft distances of up to 4,000 mm. The ROTEX ZRS is initially available in five sizes for torques up to 560 Nm.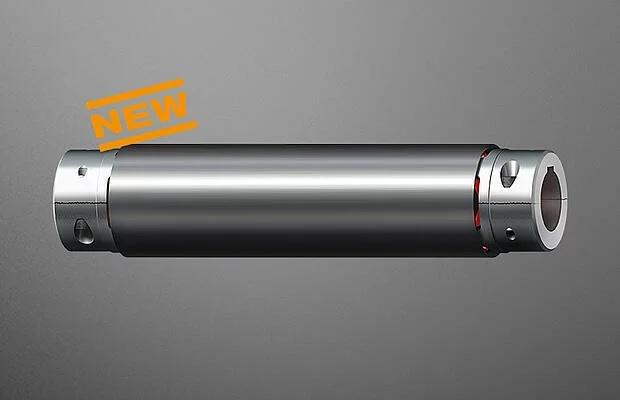 New intermediate shaft coupling from the ROTEX family. (Image source: KTR Systems GmbH)
Areas of application are bearing and materials handling technology, lifting systems and gantry robots as well as the pump industry and agricultural engineering.
The intermediate tube of ROTEX ZRS is made of high-strength aluminium and impresses by high overall stiffness which has a positive impact on the critical bending speed of the coupling. Due to the special cross-section geometry and the low deflection, shaft distances of up to 4,000 mm can be bridged; moreover, ROTEX ZRS is suitable for higher speeds than comparable intermediate tube couplings with steel tube. The high strength of the lightweight ZRS enables torque transmission from the soft 92 Shore-A spider to the torsionally stiff 64 Shore-D spider. The length of the tube is flexible and customised, while retaining the internal cam geometry over the full length.
Intermediate shaft coupling can be combined with all ROTEX hub variants
The two backlash-free ROTEX-GS spiders of the double-cardanic jaw coupling centre and support the intermediate tube. Both spiders are positioned in the tube and thus protected from external influences such as falling dirt.
The ZRS intermediate tube can be combined with all hub versions of the KTR coupling series ROTEX standard and ROTEX GS, thus allowing for a wide range of applications. Depending on the hub version, the coupling is mounted and dismounted either radially or axially.
It is manufactured at KTR's headquarters in Rheine and can be delivered within a few working days after order confirmation.