New Cooling-pump Unit as a Construction Kit System
KTR supplies its oil-water coolers series TAK/TP also as a modular cooling-pump unit with immediate effect. The unit CS-TAK/TP is composed of a tube bundle heat exchanger, a Kracht pump and an electric motor and is optionally available with filtration. Main fields of application are gearboxes, stationary hydraulics, marine applications and wind power.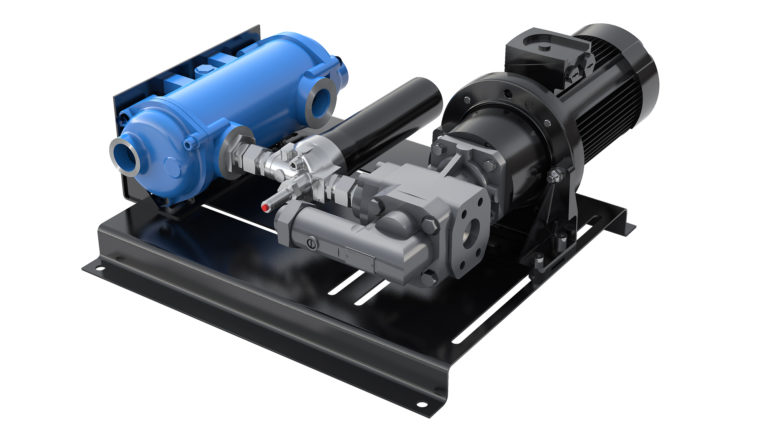 Image source: KTR Systems GmbH
The new cooling-pump unit CS-TAK/TP is designed as a construction kit system with the components adapted to the respective requirements of the application having various viscosities. The scope of the modular system includes tube bundle heat exchangers in six sizes and different performances, Kracht pumps in 20 sizes with a conveying volume of 5 to 200 litres per minute as well as suitable electric motors with a respective performance. If requested, the unit is combined with a filter of 10 or 25 µm and adapted to the respective oil and volume flow; the filters being optionally available with an electric switch. In addition, the oil-water cooler can be provided with salt water compatibility. The cooling-pump unit is equipped with NBR gaskets and on request with Viton gaskets as a standard.
"The construction kit system extends our customers' options to flexibly react to target applications and demands", Hendrik Stroet, Product Manager of hydraulic coolers at KTR, says. "We offer them the opportunity to receive the entire kit from a single source without having to take care of the individual components." Main fields of application of the new cooling-pump unit are gearboxes, stationary hydraulics, marine applications and wind power.
Hendrik Stroet: "With the new cooling-pump unit CS-TAK/TP we extended our range of water coolers. The oil-water cooler TAK/TP is still individually available with us."