New Cast Steel Control Valve by KSB for Industry
KSB expands its control valve range BOA-CVE/CVP H by launching a cast steel variant. The new valves are primarily used in industrial, process and plant engineering applications, i.e. applications requiring the control of liquid flows.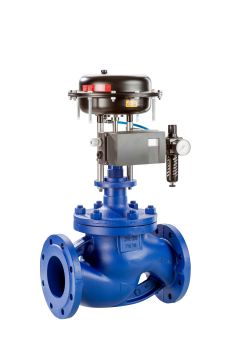 The new BOA-CVE/CVP H is a cast steel control valve primarily used in industry. (Image: KSB Aktiengesellschaft)
The new type series is available in cast steel (GP 240 GH), from DN 15 to DN 200 and for nominal pressure class PN 40. The maximum permissible temperature is 450 °C. The valves can be dismantled without any special tools by simply unscrewing the bonnet bolts. This enables the user to replace the entire valve trim and match it to different control requirements. The valve trim includes a wide range of different seat and plug diameters available for all nominal diameters. Both equal-percentage and linear characteristic valve plugs are on offer. The valve seat is designed such that it can be used on both sides. Should the seat become damaged, it is sufficient to simply turn it over instead of replacing it. The valves also feature parabolic plugs, perforated plugs and multi-hole cages to tackle cavitation and noise problems. Valve manufacturer KSB offers a soft-seated valve plug variant for stringent tightness requirements. Stem sealing on standard variants is ensured by a maintenance-free spring-loaded PTFE V-packing, and graphite gland packings are used for temperatures above 250 °C. Balanced plugs are available on request for valves larger than DN 50 (i.e. from DN 65) and allow the use of small, inexpensive actuators. The operator can choose between electric and pneumatic actuation. The electric actuators offer input and output signals from 0/2 to 10 V or 0/4 to 20 mA. In addition, 3-point (Open/Stop/Closed) actuation for straightforward control applications is also available. The actuators which are available in five sizes and as 24 V, 230 V and 400 V variants have maximum actuating forces of 25,000 Newton. The pneumatic diaphragm actuators which come in three sizes have a maximum actuating force of 55,000 Newton.